Mini concrete pump with supplier price for construction application
2018-05-31 18:42:44
Mini concrete pump is also called small fine stone pump. It adopts S tube as distributing valve to meet large aggregate concrete pumping. The mini concrete pump is concreted with good continuity, high efficiency and economical labor cost. And this pump is small in size, convenient in construction and simple in operation, which can be poured directly into the floor and greatly reduces the intensity of labor. equipped with high quality, light weight, easy to move, easy to maintain, and low maintenance cost. the main motor of this pump is 15kw, considering the convenient problem of using electricity at construction site. Importantly machine equip with mechanized operation, it is the hundredfold of man-made concrete, shortened the construction period.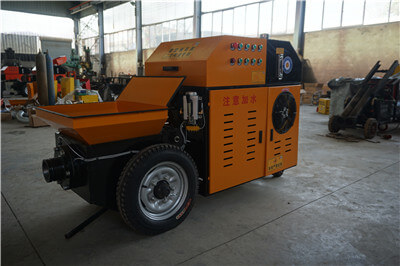 Concrete pump application
scope: widely used in the construction of some special environment, such as: railway highway tunnels, water diversion hole, culvert, mine, little tunnel construction including water-power engineering, hydropower engineering, slope support, underground construction, foundation grouting, a large group of building of post casting and so on.
Concrete pump price
machine could pump less than 20mm fine aggregate concrete with lower investment cost and operating cost, it is first choice ideal equipment for engineering construction.