Mini concrete pump for sale in Indonesia
2018-08-24 10:30:12
Model LMP7/35D mini concrete pump is a multi-purpose industrial pump designed by our company. Used for pumping concrete, spraying mortar and shotcreting working. About 7.5 cubic meters per hour output, it could pump less than 20mm fine aggregate concrete with lower investment cost and operating cost, it is first choice ideal equipment for engineering construction. It adopts S tube as distributing valve to meet large aggregate concrete pumping. The hydraulic-driven mixing device can play the good role of secondary mixing conducive to pumping. The glasses plate and cutting ring adopt hard alloy material inlay manufacturing with wear resistant and long service life. The hydraulic system adopts independent electro-hydraulic control with high reliability. The electrical system control is fully functional with returning pressure control function eliminating pipe blocking failure. Its elegant appearance and light weight is easy to transport; Working with batching mixing equipment can achieve continuous pumping construction to improve construction schedule.
Main features of mini concrete pump Indonesia.
Machine is driven by 30hp diesel engine. It can work well without electric supply.
Machine is a small volume of concrete pump, is the ideal choice for many narrow construction working environment.
Machine is light weight, mobile very convenience.
Machine configuration is high, the hydraulic operation, stable performance, compact structure, low fault rate and long service life.
Machine price is materially beneficial, a miniature mortar pump, micro fine stone concrete pump, micro shotcrete pump for the customer to choose three configurations.
Machine use automatic air compressor piston structure technology, working pressure pumping distance, the height at the pump.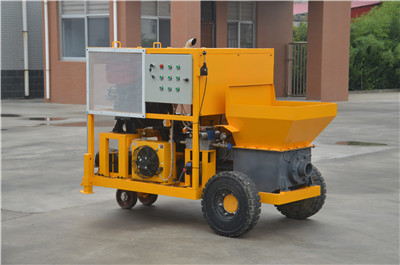 Our machine is a new, multi-purpose, multi-purpose industrial pump developed by absorbing advanced technology from abroad. Typical applications include: masonry block filling, wall grouting, hoisting mortar for masonry wall construction; concrete sidewalk and patio slab pumping; low-volume shotcrete. Mini concrete pump for sale is a kind of composite pumping requirements of concrete pump, through the horizontal or vertical installation of pipelines, the scene of the continuous conveying to the pouring fine stone concrete conveying equipment, widely used in the second post filling, floor heating engineering, roofing, wall of high-rise building, reservoir and hydropower station, port, wharf, basic processing soft foundation reinforcement grouting subway tunnel backfill grouting bolt support in mine construction.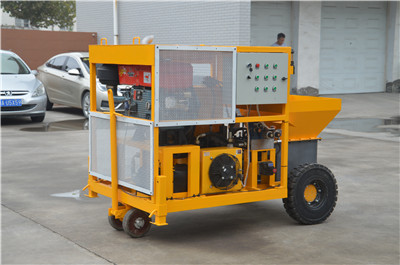 LMP7/35 new generation concrete pump trailer is specially designed and engineered with latest differential pressure induction control technology to keep reliability, simplify and efficiency. Our concrete pump trailer main components such as wear plate, piston, cylinder, discharge port and hopper are made with wear resistant high chrome alloy materials, strict welding and heat treatment processes. Our small trailer concrete pump is equipped with advanced hydraulic system which can be powered by diesel engine or electric motor for your selection. It features energy saving, large flow, wider adaptability, high efficiency, good wear resistance and easy to operate, it is widely used for concrete pumping in housing building, elevated road, bridge or tunnel construction projects. If you want to know about more machine information, please contact us freely. We will help you at the first time.