Large peristaltic hose pump for sale
2022-02-07 01:03:25
We are peristaltic hose pump manufacturer and we are engaged in peristaltic hose pump for sale. Our peristaltic hose pump with different working pressure and output. The working pressure is from 10bar to 26bar, and the output is from 14m3/h to 54m3/h. If customers have any other demands, we could provide customized service.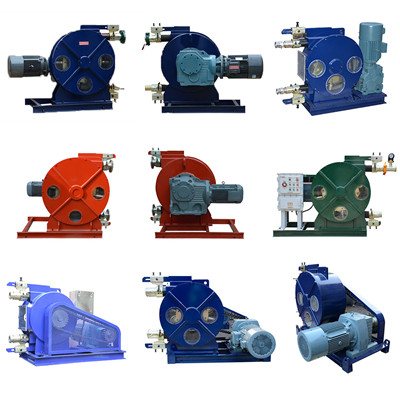 Take LH100-1050B large peristaltic hose pump as an example:
LH100-1050B large peristaltic hose pump mainly consists of pump house, rotor, roller, idle roller, squeeze tube and driving unit. The squeeze hose is U-shape in pump house, when rotor drives roller to rotate, hose is deformed. After the roller rotate, the deformed hose recover by its elasticity. Thus the negative pressure in this hose is generated, sucking slurry, and discharging through outlet under roller's push, finally forms pressure conveying of slurry.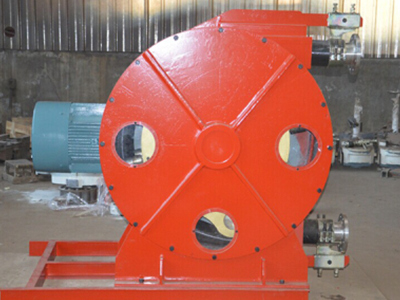 Technical data:
The working pressure of large peristaltic hose pump is 13bar, its max output is 54m3/h, and
Its power unit respectively are 37Kw, 380V, 50Hz IP55.
We have many years of experience in the industry and can provide customers with personalized products and service. If you have any special requirements, we can customize it for you. The driving engine of the large peristaltic hose pump, working pressure, displacement, extruded tube material, etc., these all can be customized according to your needs.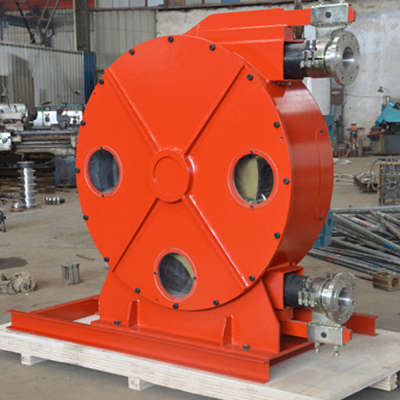 Application of large peristaltic hose pump:
Our large peristaltic hose pump have a very wide range of uses. It could be widely used in many project, such as: architecture, underground construction, petrochemical industry, metallurgy, food industry, ceramic, mining, water treatment, hydrocarbon sludge pumping etc.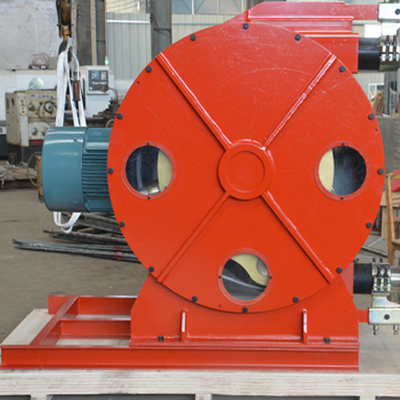 How to replace the hose of large hose pump:
1. Remove the front end cover and remove the shaft retaining ring on the pressing roller to remove the roller;
2. The inlet and outlet nozzles can be taken out by loosening the stiffening hoop, and the U-shaped hose can be taken out from the pump chamber;
3. The hose installation and replacement can be reversed.
Compared with other type pump, peristaltic hose pump for sale is easy to operate and maintain, only squeeze hose contact with materials. If there is a problem, replace the squeeze hose in time.

In addition, we have other types of peristaltic hose pump.
LCP15H series of peristaltic hose pump for sale have two drive modes, driven by electric engine and diesel engine respectively. It is more widely used in the pumping of foamed concrete, lightweight concrete, mortar and refractory materials.
LH89-610C large hose pump for sale can work as a benonite pump or foam, slurry pump in tunnel boring machine(TBM), it also used in pumping water and wastewater treatment.
LH76-770B large peristaltic pump for sale are mainly applied in pumping pulp, color and glue in the paper making process, and transport mineral waste residues.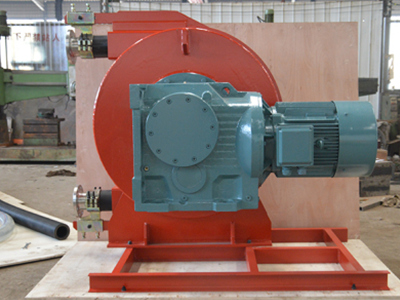 Contact us for large peristaltic hose pump details:
If you are interested in our large peristaltic hose pump, we will recommend a suitable large peristaltic hose pump for you. Please help us to confirm the following points:
1. What is the project with our peristaltic pump, is it for pumping concrete or others?
2. What pressure and output do you need?
3. What is the local voltage you require? Is 380V, 50Hz OK for you?
4. What is max aggregate size in the slurry?
You can send your requirements to our email, email address: sales@leadcrete.com.