Jet grout station price
2021-04-08 16:36:34
The jet grout station is a complete set of equipment that combines a slurry machine and a grouting pump to perform high-efficiency and low-consumption work, effectively reducing complex procedures and remote operations. The pulping machine performs high-speed pulping production and storage of cement slurry and other similar materials, and then directly uses a pump to pump the slurry to the construction connection point to complete uninterrupted grouting and grouting.
The jet grout station price is mainly used in the construction of roads, railways, hydropower, construction, mines and other above-ground and underground projects. It can quickly mix water, cement, sand, bentonite, filler, clay, silicate and other media. Then the plunger grouting pump is used for grouting to realize the functions of waterproof plugging, tunnel lining, reinforcement of foundations and rock formations, and filling of gaps. This series of grouting pumps have the advantages of compact structure, high grouting pressure and wide application range.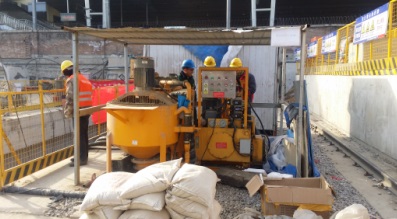 1. Compact structure, integrating a pulping machine, agitator and grouting pump in one base.
2. Possess low pressure, high pressure and stepless speed regulation system.
3. The hydraulic system of the grouting pump is composed of Yuken hydraulic components, etc., and the extrusion valve is used to realize the function switching between the mixer and the pulping machine.
4. The oil thermometer can automatically control the cooling fan to work within the normal temperature range. If the temperature is too high, the machine will automatically stop working.
5. Fully hydraulic drive, electric motor or diesel engine as power source.
6. The operation and maintenance are relatively simple.


Lead Equipment has many years' experience in manufacture and marketing of jet grout station as well as specific customer application requirements for grouting. Capacity and power could be customizing according to your projects. Sell jet grout station price for years and some of the engineers in the grouting field for more than 20 years. Ergonomic, space saving, central lifting position. Want to inquiry or order a jet grout station for sale, please contact us!
In one word, the jet grout station price with simple structure, compact size, light weight, easy maintenance etc. features in one.
If you don't know which type jet grout station price is suitable for your project, please help us to confirm the following points:
1. What is the pressure do you demands?
2. What is the flow do you demands?
3. Would you like the jet grout station with electric motor or diesel engine? If want the jet grout station price work with electric motor; also please confirm the voltage at the worksite.


We are a professional manufacturer of jet grout station price, and can customize the displacement, pressure, power, barrel and other parameters according to your project. If you are looking for jet grout station, please hurry up and contact us, t
he email: sales@leadcrete.com.