Hydraulischen hydroseeder maschine
2021-04-21 16:18:09
Hydraulischen hydroseeder maschine

Hydraulischen hydroseeder maschine is a professional equipment applied to soil spraying. Through this equipment, soil matrix, grass seeds, water-retaining agent, adhesive, fertilizer, etc. are mixed with water in the stirring tank of the spraying machine to form colloidal slurry, which is sprayed and sown on the slope with a high-lift multistage pressurized thick slurry pump. Because the slurry contains water-retaining materials, adhesive materials and various nutrients, it can not only ensure the sources of water and other nutrients needed for plant growth, but also effectively prevent the rain from destroying the spray-sowing materials, so plants can grow healthily and rapidly.
Scope of application of hydraulischen hydroseeder maschine
:
Greening works such as high-speed highway (railway) roadside slope greening, wound mountain greening, landfill soilless coverage, mine greening, desert control, river bank protection, maintenance and watering, and large-scale green space reconstruction.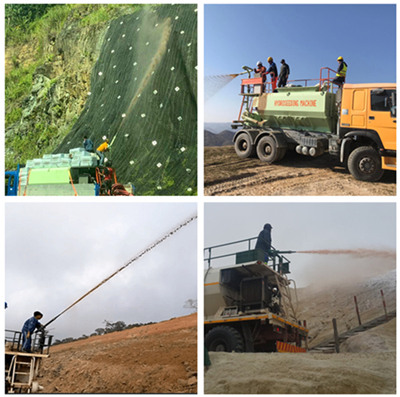 Advantages of Leadcrete hydraulischen hydroseeder maschine:
1. High efficiency: under the condition of direct spraying, the single-day spraying area can be over 2,000 ㎡ (5cm thickness).
2. High range: hydraulischen hydroseeder maschine price of our company can realize direct injection height of 85 meters, and lead pipe of 120-350 meters (with special booster pump).
3. Anti-rainwater scouring: It can effectively prevent rainwater scouring with the use of polymer materials.
4. Less labor: only 2-3 workers are needed to complete the soil spraying and greening operation.
5. All-in-one machine: This product is an all-in-one machine for screening soil (optional), mixing and spraying, and no generator or air compressor is needed.


Zhengzhou Leadcrete hydraulischen hydroseeder maschine supplier provide a variety of spray seeding models, including large and small power hydraulischen hydroseeder maschine, hydraulic spray seeding machine, grass seed spray seeding machine, guest soil wet spraying machine and other slope greening equipment, providing guest soil spray seeding technology. The hydraulischen hydroseeder maschine price is reasonable, and at the same time, it can enjoy all-round technical support.
Today, with the rapid development of economy, there are many protective treatment methods on the highway. Of course, the ultimate goal of each method is to prevent soil erosion and green the environment, but we should choose the slope greening suitable for the local area according to some terrain reasons. So today,
what are the ways of greening the lower slope?
1. Net cage manufacturing
This method can be found everywhere on expressways, mainly using cement fixation, and then planting vegetation in fixed areas.
There are generally two levels of greening for the terrace slope, of course, the greening methods of the two levels are roughly the same, but only if the elevation is used for planting, it will require manual climbing.
This way of slope greening is very simple, because it is popularized by many government departments, and only needs to select suitable vegetation and then plant it in bags, which is more suitable for large-scale slope greening projects.
This method is a relatively new one, and it is less difficult to construct, and it doesn't need to invest a lot of manpower and financial resources. After planting, the landscape created by the whole highway subgrade is quite good.