Gunite concrete machine for sale
2019-03-31 19:55:10
Gunite machine is named as dry mix gunite concrete machine, one kind dry spraying application. In the dry-mix spraying process, cement, sand and aggregate are mixed without water, and then placed into shotcrete machine hopper, use compressed air to convey dry material from the machine through the hose to the nozzle where water is added. The water thoroughly wets the other ingredients as the mixture is jetted from the nozzle at high velocity onto the surface to be shotcreted.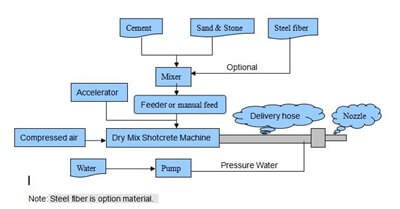 Dry spraying process
The total gunning system consists of the gunite concrete machine for sale, water supply, air supply and material supply. As below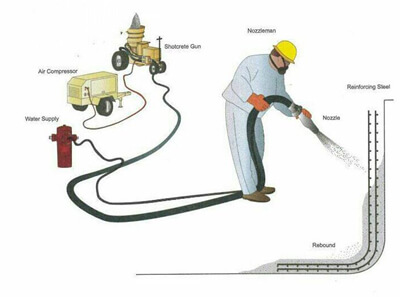 One set concrete gunite machine system
Gunite machine is very suitable for grid slope protection project. Usually concrete gunite machine is divided into LZ-3 (3m3/h), LZ-5 (5m3/h), LZ-7 (7m3/h) and LZ-9 (9m3/h) according to different output capacity. For some remote working site, we also design diesel engine and electric motor drive gunite machine. It don't need any electric power supply, only need provide air compressor for compressed air.
Besides, steel rotor plate and sealing plate is key part for gunite, in order to enhance gunite machine service life, we adopt nice quality steel rotor plate and sealing plate for our gunning machine.We have exported our machine to many countries, like United States, Malaysia, Philippines, Indonesia, UAE, Qatar, etc, and received better feedback from our customers.
In order to recommend the suitable machine for project, usually, we need know your detailed project information, like output capacity, max. aggregate size, local voltage. Faced with some customers' voltage is different with ours, we could also customize the voltage motor according to customers' demands. Please check our customers' working site for reference, more detailed product information, please check our company website: www.leadcrete.com
Shotcrete machine for slope protection
Shotcrete machine for grid slope protection