China Mortar Spraying pump for sale
2019-04-02 16:00:40
China mortar spraying pump for sale is the advanced technology that our company absorbs and digests the current domestic and international spraying machinery and equipment, and develops and produces high quality products by using the experience of designing and manufacturing concrete construction machinery for a long time. It is suitable for pumping and spraying all kinds of ordinary mortar, lime-based or cement-based on-site mixing mortar and ready-mixed mortar for railway and highway tunnels, bridges and culverts, water conservancy and hydropower, mines, high-rise buildings and national defense projects.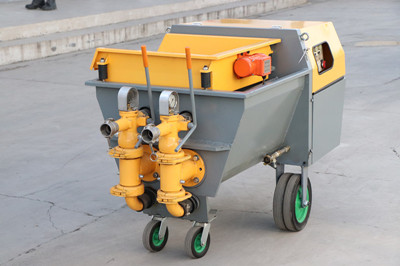 China mortar spraying pump is a professional spraying equipment specially designed for spraying mortar. It can be used for spraying mortar with particles below 5 mm. Mortar spraying machine can be used not only for spraying but also for grouting mortar. This machine consists of a push mechanism, a distribution mechanism, a pneumatic control and injection mechanism, and an electronic control device. Before each construction, run the equipment empty, so that each lubrication point is automatically filled with grease, check whether the electric control switch button can normally control the operation and stop of the equipment; check whether the conveying pipeline is unobstructed; check whether the spray gun head and air pressure pipeline are intact. Construction operators should wear safety helmets and safety goggles as well as face shields to ensure that the splashed sand does not get into the eyes and face during the spray process.

At the end of construction, remove the spray gun head and open the quick joint connecting the discharge port and the transfer hose. Press the cleaning ball into the delivery tube and restore it; open the quick hose clamp at the bottom of the ball valve box to separate the feed port and the hopper into the hopper. Clean the concrete and clean it and restore it. Refill the hopper with water and pump it until the cleaning ball is pressed out of the conveying line by water and ensure that there are no residual sand in the conveying pipe. mortar spraying pump for sale is a double functions machine for spraying and injecting. Any unclear, please contact us timely.