Grouting pump supplier in UAE
2019-02-04 10:55:34
Grouting pump, it is also named injection pump. It could be divided to electric grouting pump, diesel engine grouting pump, and manual grouting pump. Heavy duty grouting pumps are designed to pump a wide variety of high viscosity slurry and grouts. Especially in tunneling and dam grouting construction.
The grouting technology is widely used in high-rise building grouting, hydro-power stations, sea ports, docks etc various pressure grouting, foundation treatment, soft foundation reinforced grouting, backfill grouting anchor support in tunnel mine subway construction. For the moment, the main application of the grouting process includes compact grouting, anchor support grouting, curtain grouting, and high-pressure jet grouting etc.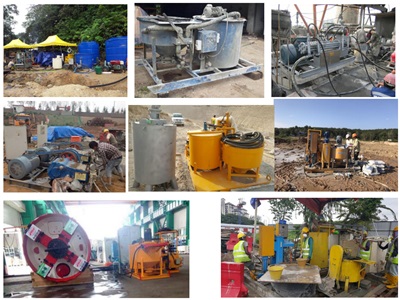 Leadcrete grouting pumps are available in various sizes and power ratings with grout injection pressure up to 500 bar and flow rates up to 1500 L/min. Leadcrete as the professional grouting pump supplier, the grout pumps can easily meet all the main requirements for low, medium and high pressure applications such as micro-piling, anchoring injections, permeation grouting, compensation grouting, grout filling (e.g. cavities in mines, tunnels, etc.), drilling mud injections, high pressure jet grouting etc.
The grouting pump has been successfully delivered to UAE, and accept by the UAE market. LGM80/50 PLD-E double cylinder plunger type grouting pump is a perfect machine for grouting projects. Double cylinder design, it makes this machine technology reach to the world leading ones. Max. Flow is 80L/min and max. Pressure is 50bar. Suitable for all grouting work, up to 8mm particle size. As the manufacturer and supplier, the grouting pump flow and pressure could be customized according to your request.