Grouting equipment plant application
2022-06-23 15:30:39
Leadcrete Equipment began as a manufacturer of grouting equipment in 2012, specializing in cement and chemical grouting. Hundreds of projects, both large and little, have provided invaluable production and sales experience. We have years of experience making and selling grouting equipment, so we can understand your requirements and propose the best equipment for the job.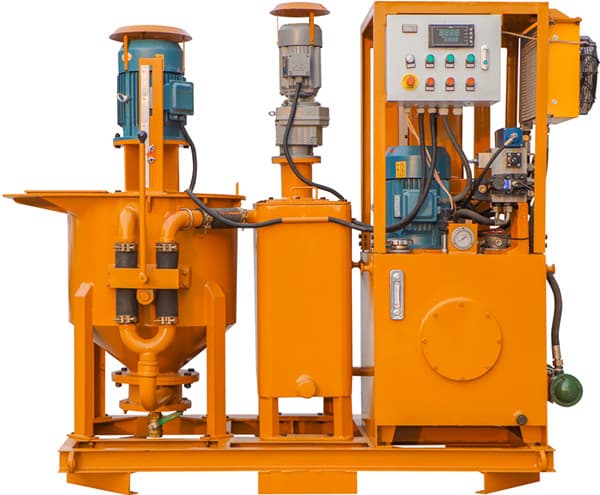 A grouting equipment plant combines a mixer, agitator, and grout pump into a single unit. A strong turbulence formed in the pump casing archives the particular mixing effect of cement or bentonite with water in the mixer. The tremendous shear forces of the turbulence separate the cement or bentonite particles, resulting in a thoroughly hydrated suspension. It's a never-ending process of mixing and grouting. The grouting plant was designed with the mixer-pump balance, user-friendly operation, and ease of maintenance in mind. Enough technology was included to optimize efficiency without sacrificing ease of use or maintenance. At the unit's declared pumping speed, a full grouting unit is always designed to provide the customer with continuous, uninterrupted grouting capabilities. That is, the mixing tank must be large enough and the storage hopper must be large enough to keep the pump "fed" without interruption. The injection molding equipment's innovative dual mixer tank design allows for continuous pumping because each mixer tank alternately feeds material to the pump. To ensure quick mixing, each mixer is equipped with baffles, bag breakers, and variable speed high efficiency paddles. A wide sliding door at the tank outflow allows viscous grout to flow swiftly into a detachable holding hopper. A positive displacement double action piston pump is directly linked to the holding hopper.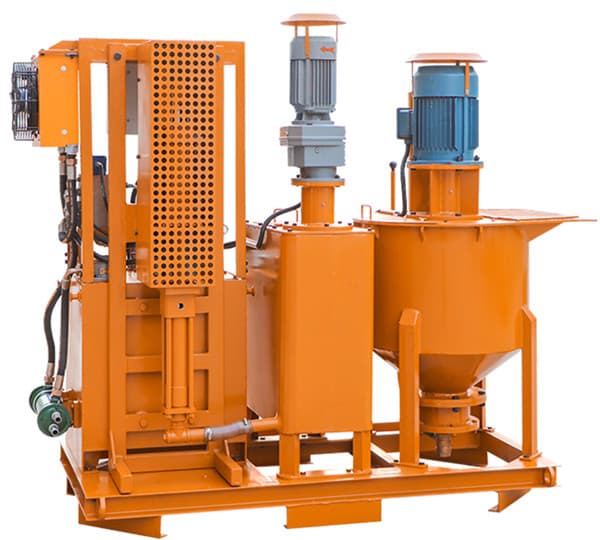 Furthermore, grouting pumps are classified as single-liquid grouting pumps or double-liquid grouting pumps in grouting equipment. The motor, gear pump, accumulator, reversing valve, oil cylinder, cooler, slurry cylinder, suction and discharge slurry valve set, sump, and other components make up a single-liquid grouting pump. A double-cylinder double-action piston pump is used for double-liquid grouting. The high pressure oil generated by the oil pump causes the piston in the oil cylinder to reciprocate, while the piston in the slurry cylinder reciprocates as well, and the action of the suction and discharge valve set completes the slurry cylinder's suction and discharge.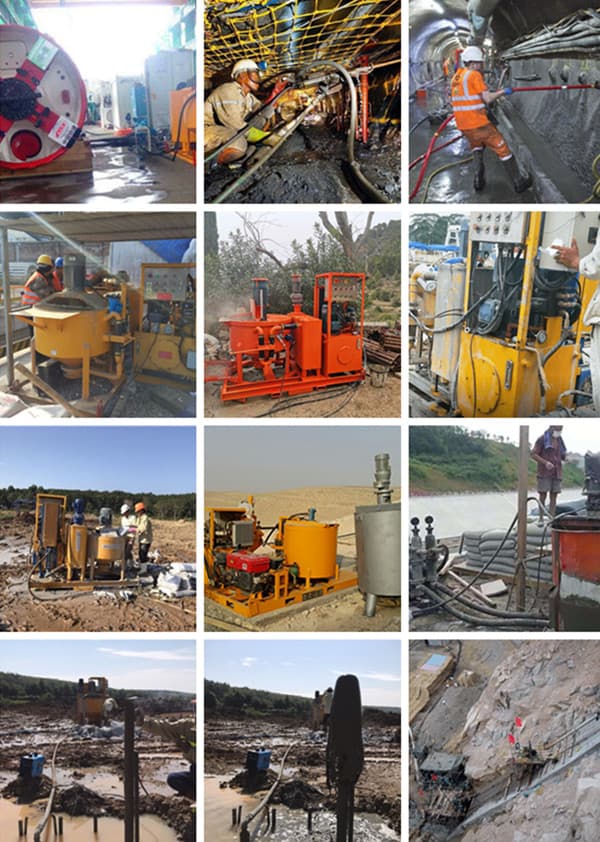 Grouting equipment plant application:
Civil Engineering-soil nails, tiebacks, earth anchors, high pressure rock grouting.
Structural-building restoration, foundation stabilization, foundation raising, soil compaction grouting.
Construction-post tensioning, slab undersealing, slab jacking and slab raising.
Marine-underwater foundations, piers, breakers, shoreline foundations.
Mining-high pressure rock grouting, tunnel lining, contact grouting, waterproofing, cable and rock bolts.
Utilities- encasements, waterproofing, dam foundations.
Geotechnical- deep well casing, monitor wells, well sealing and abandonment.

Because we know that service is as important as quality, Leadcrete Equipment maintains a large inventory of grouting plant and a knowledgeable staff to serve you. If you are interested in our products, please contact us.
Thank you! Email address: sales@leadcrete.com