Grout pump used for Tunnel Boring Machine
2019-10-21 09:51:17
LGH90 Grouting Pump is a piston pump with single cylinder and double acting, its main oil pump is a variable piston unit adjusted by hand, so the output of pump can be adjusted from 100 to 0 L/min. This grout pump for Tunnel Boring Machine has many advantaged characters of simple structure, higher working pressure. Grouting Pump has been using for sealing, strengthening and stabilizing of rock and soil in Tunnel Boring Machine, Mining, Hydro-power Project, Slope Stabilizing and underground project, etc.
Tunnel Boring Machine use grout pump is with the variable oil pump, directly connecting to the electric motor, pumps the pressure oil into the Solenoid Operated Directional Valve which distributes the pressure oil into one chamber of the oil cylinder, alternately into anther chamber, so the rod of the oil cylinder reciprocates. Because the rod of grouting cylinder is rigidly together connected to the rod of oil cylinder, so the rod of grouting cylinder also reciprocates, and the slurry is sucked and pumped.
Before normally operating the grout pump for TBM, please "start" and "stop" the machine at a short time for a few times, and check if the rotational direction of electric motor is accordant with the "arrow", and if the sound of electric motor is normal.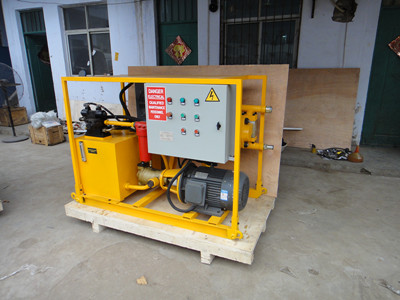 Before starting the machine every time, check if the lever of hydraulic oil is enough or not, and if the Proximity Switch is fixed in place.
When the machine is working, check if the oil pressure is stabilization or not, the oil temperature is high or not, leakage oil occurs or not.
When the machine is stop, clean the grouting cylinder and conveying hose line in time.
If the main machine doesn't work for a long time, the antirust oil must be plastered on the inner of material pipes and pressure oil must be released.
Check if the all the bolts and joints is fixed in place or not every three months
When new oil is added in the oil tank, the oil must be filtrated by the less than 20µ filter.