China grout mixing and agitating station
2017-09-08 10:05:06
Leadcrete designs and manufactures different types of grout station, including semi- automatic version. The grout stations can be built for different requirement, such as flow rate, pressure, power and color. Normally grout station is a combination of grout pump, agitator, and mixer and control system. Sometimes, transportation system is also included. Of course, silo and weighting system can be also add to ensure its semi-automatic version. All grout stations are easy to be transported and compact, making it highly efficient and easily maintained.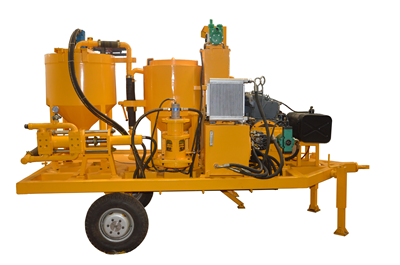 Quality, efficiency and durability compact China grout station consists of a High Shear Mixer, an Agitator and a Grout Pump. These come in various sizes and productive capacities. Standard model mixer volume can just 200L and can also make to 800L. Agitator volume varies from 300L to 1200L. Also pump flow and pressure varies according to different projects and requirements.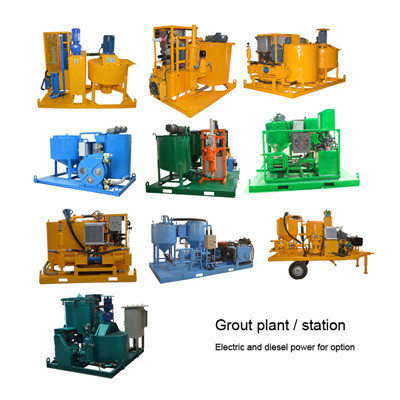 Some grout plants include high output flow and pressure, user friendly adjustable output pressure and volume control as well as convenient maintenance. All grout stations produced with fork lift position, its robust and compact design makes it to be handled by fork lift easily and conveniently.

China grout station is suitable for all grouting applications with cement and ultra-fine cement, bentonite suspensions for micro-tunneling, pipe jacking and directional drilling. Grout plants are ergonomic, space saving. Mixing and agitating station can be also detached from the unit for individual use.

Grout mixing and agitating is a popular method of soil stabilization for retention of slopes. A series of angled holes are drilled and grouted up with reinforcement. Unlike anchors, the reinforcing bars are not post tensioned. In many cases the slopes are very steep and only light weight equipment can be used. Light-weight Portable Drills and grout station are ideal for this drilling soil nailing application.

Latest technology, high quality, maximum reliability and long operational life, for more information about China grout mixing and agitating station, please email us: sales@leadcrete.com.