Grout injection pump for sale from factory
2019-03-19 18:32:45
The underground engineering construction is affected by geological conditions, construction quality and other factors, and there will be structural leakage, building settlement, uplift at the bottom of the pit, local collapse and other dangers. Waterproof plugging and grouting technology is a kind of plugging construction technology with simple equipment, convenient construction and quick effect. It has been applied in grouting injection and rescue.

Grouting injection technology is not only a construction technology, also widely used in chemical, mechanical, geology, etc. Now the grouting injection technology is a combined technology. Usually, the purpose of grouting are mainly as below: reinforcement of strata and water plugging, improve the strata the bearing capacity and steady, improve the strata gas tightness. Or in shot: Stabilisation, Strengthening, and Sealing.
Grout mixer and agitator, grout injection pump, grouting recorder are common grouting tools during the grouting projects. Grout mixer and agitator could achieve the liquid mixing. Including the water and cement, bentonite, chemical etc. Grout injection pump for sale could finish the grouting and injection projects.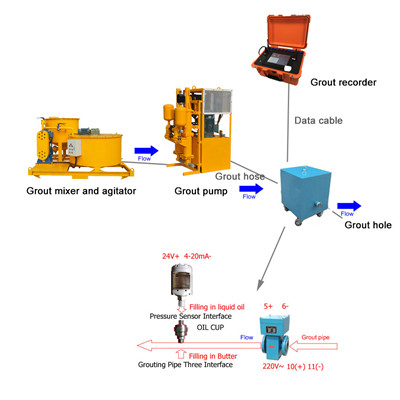 Leadcrete is the grout injection pump factory, provide different types of grout injection pump for sale. Including the plunger type injection pump, piston type injection pump, and the screw type injection pump. And suitable for different grouting material and ratio as below, and grout inject pump for sale we provided are all suitable.
Slurry name

Raw material

Ratio

Common cement single slurry

42.5R Portland cement

W:C =0.6:1 ~1:1

Superfine cement single slurry

D90 less than 20um superfine cement

W:MC =0.8:1 ~1:1

Sulphate aluminium cement

(HSC, TGRM)

D90 less than 10um

W:C =0.8:1 ~1:1

Inorganic double liquid slurry

D90 less than 10um

A:B =0.6:1 ~1:1

Common cement - Sodium silicate

32.5R Portland cement

35Be' Sodium silicate

W:C =0.6:1 ~1:1

C:S =1:0.3 ~1:1

Superfine cement - Sodium silicate

Superfine cement and Sodium silicate

W:MC =0.6:1 ~0.8:1

MC:S =1:0.3 ~1:1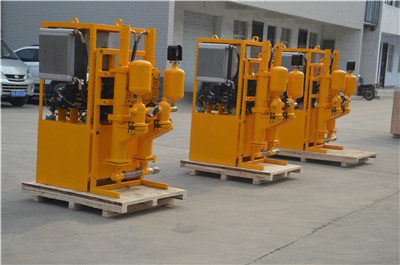 Leadcrete injection pump for sale has different power for option. Electric motor, diesel engine and air powered. Suitable for different working site. If you want to know more information about grout injection pump for sale from factory, please email us: sales@leadcrete.com.