The different between foam concrete and aerated concrete
2017-10-30 11:33:59
Compared with aerated concrete, because of the interwined cellular structure, foam concrete has the advantage of low density, good heat preservation and thermal insulation and good antifreeze performance.
Foam concrete and aerated concrete are all cellular lightweight concrete. Foam concrete adopts mechanical foaming while aerated concrete is chemical foaming. So, the bubble in foam concrete can be distributed very equally, and the diameter of bubble is almost the same. It can reduce the situation of stress concentration caused by uneven inner structure.
Besides, aerated concrete needs autoclaved curing, not suitable for cast-in-place. But foam concrete can be used for sit construction, and can be poured to any position of building, so the application is more widely and more easily to be produced.
It needs less investment for a foam concrete plant, whether for lightweight block, wall panel or other application. Our LD2000 foam concrete mixer and LP30 foam concrete pump is our most hot sale unit, it is suitable for middle and large scale foam concrete plant. The high capacity and high automation can save much cost and improve production efficiency greatly.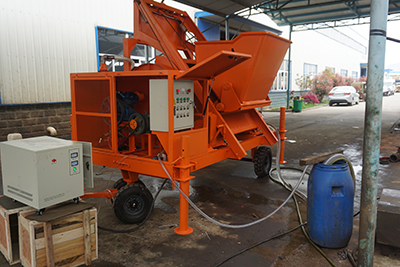 [!-