Small fine stone electric concrete pump
2019-03-15 15:52:50
Small fine stone concrete pump is a mini pump in building construction. There are two engine for your option. Electric motor(15kw) and diesel engine(30hp). You can choose engine driven according to your project requirements. Also we could customize motor for you. If electricity is not convenient, diesel engine is a better choice. The maximum of machine can pump less than 20mm aggregate size. Small output and large aggregate. The weight of machine is very light, easy to move. Machine is low maintenance. Concrete pump operation and related personnel must carefully study and comply with the requirements of this manual, so that not only can effectively use the pump and achieve the best economic benefits, but also to avoid mechanical damage and accidents.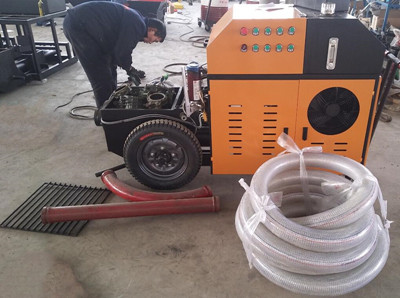 As you know, small fine stone electric concrete pump should be layed away from slopes, dykes, pits, ditches, should consider of convenience for mixing transport vehicles or on-site mixing and filling, and shorten the pipeline layout line as far as possible. The motor must be equipped with cable of enough diameter according to the motor power to ensure the safety of starting the motor. There are three types of pump outlet pipeline layout for our electric fine stone concrete pump, which are determined according to on-site construction condition. (1) Direct connection: the conveying pipe is in line with the concrete pump. (2)U connection: 180 ° connected, the pump outlet is connected by two 90° bend pipe and conveying pump. (3) L connections: pump outlet is connected by a 90° bend pipe and conveying pipe which is connected with concrete pump vertically.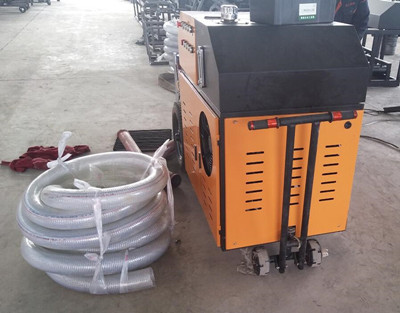 When pumping finished, This fine stone electric concrete pump can use the direct pumping water method to clean the pipeline, its operation method is as follows: after the end of pumping, disassemble the pump outlet vertebral canal to clean. Then the sponge ball is loaded into the spinal canal, the hopper door is opened to release the residual material in the hopper, and the residual material in the concrete cylinder is discharged by the reverse pump. The hopper and s-pipe are washed with water, and the hopper door is closed to install the water of the spinal canal pump until the sponge ball is pumped out from the outlet at the end of the pipe.