Bentonite mixing unit with piston pump
2021-03-11 11:46:09
Bentonite mixing unit with piston pump

Leadcrete has engaged in the design manufacturing and export of different kinds of bentonite mixing unit with piston pump. And, Leadcrete is committed to develop new products to meet the customers' need, with the ability to provide the necessary technical support and engineering experience required. Today, Leadcrete products are widely working in China, Australia, Finland, Spain, Egypt, Lebanon, Mexico, Peru, Malaysia, Philippines, Sri Lanka etc. and got the customers' satisfaction based on the high-quality and competitive price.


1. Used for lining, anchoring and supporting grouting in tunnel and tunnel construction. In geotechnical engineering, it is suitable for medium and low pressure filling or fissure grouting, infiltration grouting, compaction grouting and splitting grouting.
2. In foundation engineering, it can be used for soft foundation reinforcement, foundation settlement and anti-leakage pressure grouting. In pile foundation engineering, it can be used for grouting mortar in jet grouting pile and mixing pile.
3. In the chemical industry department, it is used to transport slurry raw materials and other media. In metallurgical and iron and steel departments, it is used for transportation and injection of refractory materials with good fluidity.
4. Equipped with air compressor and spray gun, this bentonite mixing unit with piston pump can also be used for spraying and plastering continuous walls. The vertical or horizontal transportation of plastering mortar and masonry mortar on the ground and wall in various brick mixed block structures can be completed in the freezing project.
5. In water conservancy projects, it is used for curtain grouting, consolidation grouting and backfill grouting of hydropower stations, reservoirs and dams, and can also be used for wall reinforcement, etc.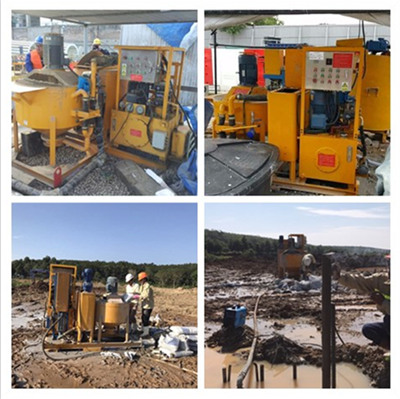 1. Construction preparation: push the secondary lining repair bench to the bentonite mixing unit with pump, and the position is stable;
2. Cement mortar is used as the grouting material, and the mixing of cement mortar must have good pourability. After consolidation, it has certain compressive strength, tensile strength and good stability, and the mixing of mortar should be carried out in strict accordance with the mixture ratio issued by the laboratory
3. After each grouting, the grouting pipe must be flushed with high-pressure water in time to ensure smooth grouting next time.
Analysis method: analyze the grouting records, check whether the grouting pressure and grouting quantity of each hole meet the design requirements; whether slurry leakage and slurry running are serious during grouting, estimate the slurry diffusion range by the slurry injection quantity, and analyze whether the design is consistent.


We are a professional manufacturer of bentonite mixing unit with piston pump, if you are looking for bentonite mixing unit, please contact me:
sales@leadcrete.com
.