Where is foam concrete usually used?

Foam concrete is often used in lean concrete fills due to its flexible workability and adaptability due to the use of flexible hoses.
If the foam concrete mixing machine heat insulation requirements are not very high, choose a lean concrete filling with a density of about 1200kg, and the uniform thickness is 0.05m. If the heat insulation is very high, select a poor concrete filling with a density of 500kg, and the uniform thickness is 0.1-0.2m.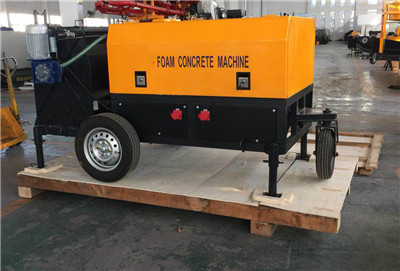 Foam concrete roof slope.
Foam concrete is used for roof slopes and has the advantages of light weight, fast construction speed and low price. The thickness is 0.03-0.2m, and the foam concrete with a density of 800 - 1200kg is selected.
Support for the bottom of foam concrete storage tanks.
The foam concrete is poured on the bottom of the foot of the steel storage tank (with crude oil and chemicals), and if necessary, a convex foundation can be formed, which ensures that the support of the entire bottom of the tank is in an optimal stress state during welding. Successive support allows the tank to be used as a thin plate bottom.
At the same time, the convex foundation is also easy to clean. Foam concrete is used at a density of 800-1000 kg.
If you want us to provide foam agent, we also have. And we are happy to provide technical support.