Double piston electric power mortar pump application

LMP70/30 is a hydraulic double piston mortar pump with double cylinder and single acting. It has the advantages of compact structure, reliable operation, low fault rate, convenient cleaning and maintenance, etc.
This machine can be used not only for pumping and grouting the cement slurry or mortar, combined with accessories such as compressor and spraying gun, it is also ideal equipment applied in spraying. The main application is to pump/grout the wet ready-mixed cement slurry, mortar or similar materials in mine gallery, rail and road tunnel, hydropower construction, slope consolidation, underground engineering , subway and civil engineering etc.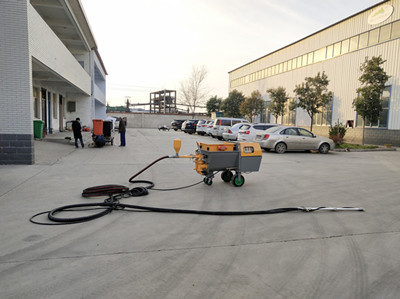 LMP70/30, the double piston pump can handle aggregates with a particle size up to a maximum of 5 mm, ensuring high efficiency, low maintenance costs and low energy consumption. Thanks to pump unique design inspiration is equipped with 2 pistons. Machine guarantees uniform and continuous spray pattern. Following are unique advantages:
1.Double cylinder & double-acting, ball valve, quick clamp connection, operation and cleaning conveniently. Paddles in hopper with Reciprocating movement, prevent hopper materials deposition .
2.The screen adopts rubber spring with cone bolt installation, convenient disassembly;
3.Equipped with double special mortar nozzles, making spraying operation more smoothly, continuously and reducing the rebound effectively.
4.Machine light, 1-2 person can easily move the machine.
5.Independent electric control box and remote control system, machine operation is safer. Waterproof vibrator.
6.Quick installation and rubber piston long work life and low maintenance cost.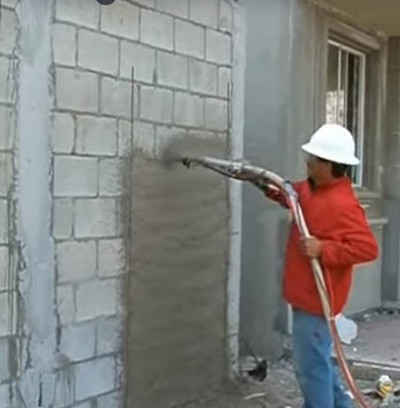 Mortar pump machine is widely used for spraying mortar on the wall ,tunnel ,channel , building internal and external wall surface goods mixed mortar, putty powder, refractory coating and pressure grouting. Available spraying material means sand, cement, water, etc , other things that the diameter is no more than 5mm. This is new machine designed by our company. If you need any help about machine, please contact us freely.