China shotcrete machine for sale

Whichever type of China shotcrete machine, they all need the suitable air compressor to provide need compressed air. For air motor drive shotcrete machine, it will need larger model air compressor than diesel engine and electric motor shotcrete machine. On the one hand, air compressor need provide the compressed air to drive air motor.
On the other hand, air compressor need provide compressed air to blow materials to nozzle assy and spray the materials to working surface. Compared with electric motor drive shotcrete machine, air motor drive and diesel engine shotcrete machine is suitable for remote working site, because they don't need be provided electric supply.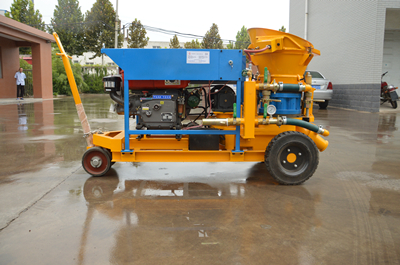 As China nice quality concrete shotcrete machine supplier, Gaodetec shotcrete machine is good quality both in produce and accessories. As what we know, sealing plate and steel rotor plate is key part for shotcrete machine.
For steel rotor plate, ours hardness could be up to 50~60 HRC, resistant to rust, which other supplier's steel rotor plate hardness is only 35~40 HRC. Sealing Plate hardness: 75-80 HRC, Akron abrasion≤0.2cm3/1.61KM, working temperature≥110℃, Rubber plate and metal plate bonding strength≥3MPa.