New type piston cement spraying machine

The piston type cement spraying machine is our newest product, the machine includes motor, reducer, pump, air compressor, electrical equipment, machine frame and so on.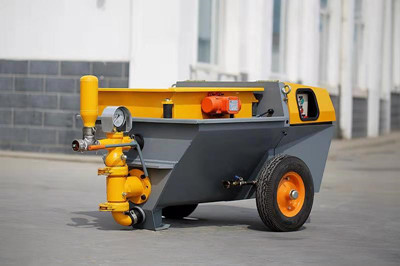 It has a big advantage than the screw style spraying machine, the machine has high pressure, fast speed, high efficiency, easy moving, easy maintenance, and long service life, most important, no need to often change the wearing parts. Spray plaster machine price is very competitive.
The cement spraying machine is mainly used in the building construction industry, both inside and outside wall for plastering and spraying mortar, external wall insulation mortar spraying, the materials can be mortar roughcast, refractory coating, large building spraying fire materials, waterproofing coating and so on.

The cement spraying machine is a machine that automatically plasters the wall surface. The wall cleaning machine belongs to the field of construction machinery. Its advantages and practicality are strong.
Cement spraying machine eliminates the need for management, pumping and other processes in the construction of plastering wall ash, saving labor, time and convenience. It is easy to operate and has excellent engineering quality, especially for workers who do not have any experience and skills in wall cleaning.