Spaying Materials of Soil and Grass Seed Spraying Machine
2021-07-26 18:09:57
Spaying Materials of Soil and Grass Seed Spraying Machine
Spraying material mixturesare composed of grass seeds, grass fiber, peat, water insurance agent, adhesives, fertilizers, local soil and water.


Grass seeds can bechosen reasonably according to local climatic conditions, grass fibers can be obtained by crushing by straw and bellflower, synthetic polymers (acrylic acid / propylene west acrylamide polymer) is

commonly used as water insurance agent. Cellulose or glue can be used asadhesives; generally NPK is usedas fertilizers. Mix ratio of the mixture should refer to the design specifications or depend on field test.
1) Common clay (40%-50%), you need chooseclay with strong bond adhesion, a large amount of sand, and good permeability after mixed with other improved materials. You had better uselocal loam or mellow as soil material.
2) Organic nutrient soil (25-35%), it mainly containspeat, loam and other organicsthat absorb long-term nutrients. (Peat organic component content: more than 80%; N, P, K content: not less than 5%; PH value: 4.5 to 6.0).
3) Soil improvement material (15%-25%), mainly wood, plant fiber, poultry manure, extruded material and other supporting material. The purpose is to increase water keeping capacity and permeability of soil fertility, increase the buffering capacity of the soil, microbial activity and nutrient supply, so as to make root growth, reproduction and interludes easier.
4) Multi-content fertilizer (0.6%--0.8%), mainly ordinary fertilizer and Fertilizer with long validity and difficult to loss. General fertility effect can last up to 2 to 3 years
5) Water insurance agent (0.25%), an efficient soil moisture, particle expanded its body to absorb and release water decomposition enables soil to save more water and make water available for plants to absorb again and again when growing.

In general, ingredients of grass seed spraying Machine with 8000L capacity are: first add 3000L water, basically to the position of stir axis, then put into 5000L local soil material, 12 packs of wood fiber, water insurance agent and a binder with ratio of 3: 1.
Hydroseeding technology process mainly contains cleaning up the slope, line of survey, mixing the material, hydroseeding, maintenance and management. Hydroseeding material consists of a mixture of grass seed, grass fiber, peat, water retention agents, binders, fertilizers, local soil materials by water mixing. Maintenance and management is very important for the growth of the seed afer hydroseeding.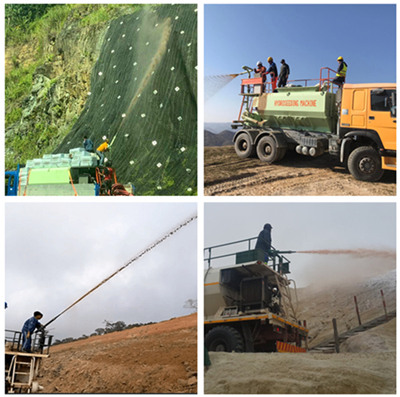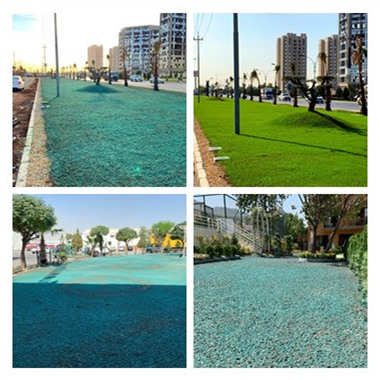 Grass Seed Spraying Machine is widely used in wasteland, lawn, fruity garden, farmland and riverbank, highway, railway low slope etc. where need to spray grass seeds.

As the grass seed spraying machine supplier and manufacturers, we own many years' design and manufacturing experience. We have 3000L, 6000L, 8000L, 13000L, 15000L grass seed spraying machine for choose, also can customize grass seed spraying machine according to customer requirements.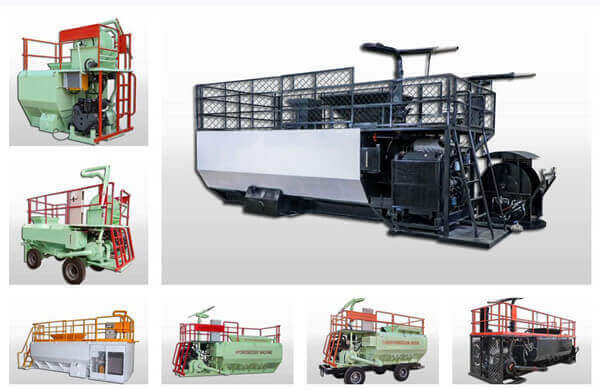 Please contact us sales@leadcrete.com for suitable type and the best price of grass seed spraying machine.
In order to confirm which type grass seed spraying machine suitable for your job, could you please help us to confirm the following information:
1. What's the project you will use the machine do? for slope greening or playground greening or other?
2. What's the mixing tank capacity you need, 3000L, 6000L, 8000L, 13000L, 15000L or bigger or smaller?
3. About the engine, do you need Chinese brand engine or Cummins engine?
4. May I know your Telephone number or other online talking way? So we could talk about the goods more freely!