Small machine spraying concrete on wall
2019-01-08 10:08:55
Mortar Spraying / Plastering Machine is specially designed for spraying mortar, mortar particle diameter less than 5mm which all could be operation. Mortar spraying machine can not only be used for spraying, but also for filling mortar.
Besides, mortar spraying machine can be named as Rapid Mortar Spraying Machine due to high efficiency spraying speed. Also called Plastering Machine because of spraying cement slurry; Due to spray putty powder, refractory materials, emulsion paint, fireproof material, also known as Multi-function Sprayer.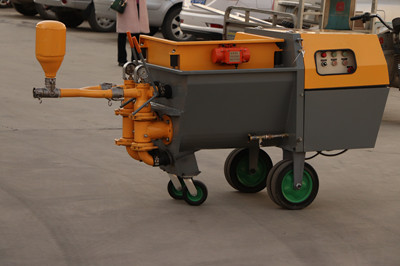 This Machine spraying concrete on wall is suitable for pumping and spraying all kinds of ordinary mortar for the railway and highway tunnels, Bridges and culverts, water conservancy and hydropower, mining, high-rise buildings and national defense and other projects, the ideal solution is provided for lime-based or cement-based on site mixing mortar and ready mix mortar.
Before each construction, equipment shall be idling to make each lubrication point automatically be lubricated grease, check whether the electronic control switch button will be able to control the operation and stop equipment normally.
Such as Check whether the conveying pipeline is unobstructed; Check whether the spray nozzle and pneumatic pipe are in good condition.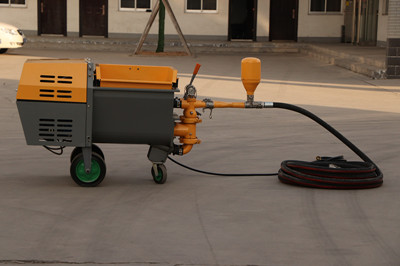 When spraying concrete on wall working, If pipe blockage occurred in the construction process, ensure to check whether the ratio of slurry is appropriate.
If you are using river sand (or less power )which require to add some additive to improve its pumping performance (pay attention to the mesh sieve with 4 mm for sand sieving, maximum particle size does not allow greater than 5 mm, otherwise it will cause the failure of blockage for spraying gun head and body.
Operators of the construction site shall wear helmets, protective glasses and masks to ensure that the eyes and face will not be damaged by the flying sand during the spraying process.
At the end of construction, take off the spray nozzle, open the quick connection between the discharge outlet and the conveying rubber pipe, press the cleaning ball into the conveying pipe and restore.