Shotcrete machine with wheel mounted installation
2021-02-25 16:35:15
Shotcrete machine with wheel mounted installation
Lead Equipment Co., Ltd. is a leading shotcrete machine with wheel mounted installation manufacturer and supplier in China, as well as a unique supplier with ISO 9001:2008, SGS and CE certificate in this products.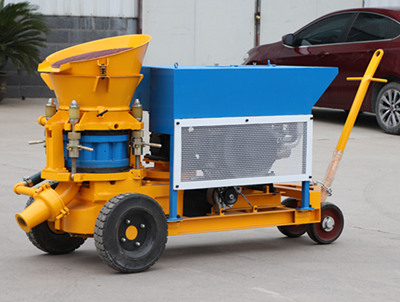 Earth and rock excavation is effectively stabilized by shotcrete and various reinforcement and anchoring systems. The use of shotcrete stabilized soil excavation has advantages over traditional wood and steel support techniques. Shotcrete is also ideal for tunnel and mining ground support. It provides early ground support after blasting or excavation; early strength development, which provides flexibility to allow ground stabilization and stress relief; and provides the ability to conform to the natural, irregular contours of the ground without the template, making it any tunnel The ideal choice.
Shotcrete is also the preferred material for underground stations, slopes, shops and provides long term stability. It can be used as a final or permanent lining for subterranean structures.
Wet mix shotcrete involves pumping of a previously prepared concrete, typically ready-mixed concrete, to the nozzle. Compressed air is introduced at the nozzle to impel the mixture onto the receiving surface. The wet-process procedure generally produces less rebound, waste (when material falls to the floor), and dust compared to the dry-mix process. The greatest advantage of the wet mix process is all the ingredients are mixed with the water and additives required, and also larger volumes can be placed in less time than the dry process.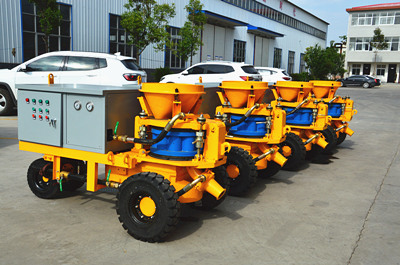 Wheel mounted shotcrete machine is available which control complete process and made it very fast and easy. Manual and mechanical methods are used for the wet spraying process, but wet sprayed concrete is traditionally applied by machine. The high spray outputs and large cross-sections require the work to be mechanized. shotcrete machine with wheel mounted installation is mainly used for working with wet mixes. Unlike conventional concrete pumps, these systems have to meet the additional requirement of delivering a concrete flow that is as constant as possible, and therefore continuous, to guarantee homogeneous spray application.
Shotcrete machine with wheel mounted installation is very useful in underground mining (hard rock). Development of decline pathway to go underground is very critical for movement of heavy machinery, men and material. Shot crating has made these path safe from any ground fall.


Matters needing attention:
1. In the process of injection, you should immediately shut down the water-gate and place the nozzle down if there are breakdown like blocking pipe and power failure, in order to avoid water flowing into the feeding tube; When handling blocking pipe, striking method can be used to unclog the feed tube.
2. Operators should wear dust mask, latex gloves and glasses. Dust concentration must be less than 6 mg/m3.
3. After injection, spray layer should be watered once a day, and continuous 28 days.
The operators of shotcrete machine with wheel must receive special training and are familiar with the structure and working principle of the shotcrete machine with wheel mounted installation; they can eliminate the general breakdown and conduct ordinary maintenance.
If you want to know more about shotcrete machine with wheel mounted installation, please feel free to contact us! The email:
sales@leadcrete.com
.