Deliver shotcrete machine to South Africa
2016-07-19 15:42:41
On 18th, June, we deliver 1 set of shotcrete machine to our South Africa customer.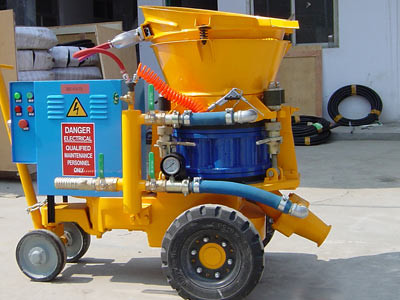 LZ-5 gunite machine can be used for mining operations, tunneling, hydropower projects and hillside protection, etc.

After two times of visiting our factory and finishing test run by customer before shipping, we exported 1 set of LZ-5 dry-mix shotcrete machine with accessories to South Africa.
LZ-5 gunite machine is medium-sized shotcrete machine for the processing of dry mix. And it is widely used by so many contractors. LZ-5 gunite machine is available in following versions:
• Basic: Electric drive can be combined with tyre chassis.
• Extended (optional): Electric motor drive with variable speed gearbox, air motor drive or diesel drive combined with Skid or Rail-wheel.

LZ-5 concrete spraying machine features:
Non-adhesion going-through rotor with new material chamber, completely eliminate bonding and blocking during operation so as to reduce clearance and maintenance period.
Thin flow conveying method with vortex flow, so the spraying flow is even, continuous and steady, to improve the shotcrete quality.
Four-point clamping device make it easy to adjust the press between sealing plate and rotor disk so as to no air and dusk leak and prolong consumption parts life.
Any question or need, please feel free to tell us.
Email: sales@leadcrete.com
Skype: machine.machine6
Tel: 0086-371-63902781