Refractory gunning machine for spraying refractory in steel plant
2018-12-13 10:08:29
Refractory gunning machine is mainly used for spraying refractory, castable materials in steel plant. Compared with common dry mix shotcrete machine, refractory gunning machine is also including high pressure water pump, new type pre-dampening nozzle assy, ABB frequency converter etc.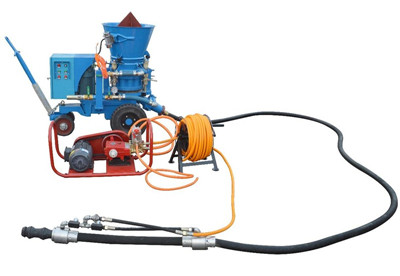 High pressure water pump is used for providing high pressure water for new type pre-dampening nozzle assy. There is one water ring in the nozzle assy, high pressure water go through water ring small hole and atomize. If so, water could be mixed even with materials, achieve best spraying effect. ABB frequency converter is used for adjusting motor speed, further control refractory gunite machine output from 1m3/h to 3m3/h. When the machine begin to work, small output could effectively avoid block because of larger output.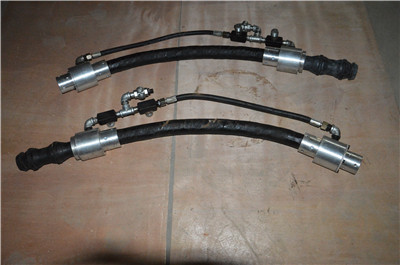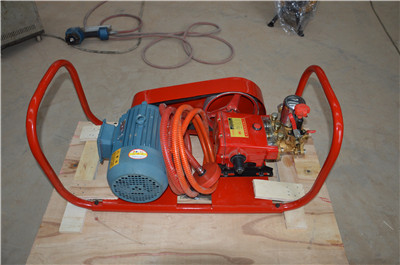 Nowadays, for refractory gunning machine, we have electric motor refractory gunning machine and full pneumatic refractory gunning machine. Whichever refractory gunning machine all need air compressor to provide compressed air.
Full pneumatic refractory gunning machine doesn't need any electric power supply, suitable for using in remote working site. Most customers' working voltage is different from ours, we could customize suitable voltage motor according to customers demands. We could provide GZ-3ER (3m3/h), GZ-3A (3m3/h) and GZ-5ER (5m3/h) for customers option.
For gunning machine, sealing plate and steel rotor plate is key part, we provide nice quality sealing plate and steel rotor plate for our machine. Usually, sealing plate service life is about 300m3, steel rotor plate service life is about 20000m3.
Providing nice quality machine for customers is our duty, we are very glad to provide best service for our customers.