Price of grouting mixing plant
2019-07-03 19:40:40
Grouting mixing plant for sale is a combination of mixer, agitator and grout pump in one base frame. it can mix, pump, monitor, log and control flow and pressure precisely. The control system allows on site mixing of a range of grouts as required by the project. It is mainly used to be made bentonite slurry, cement slurry, etc, in the application highway, railway, hydropower, construction, mining and other ground and underground construction.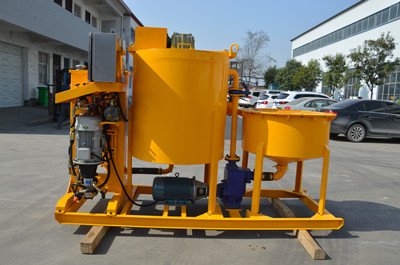 The quantities of water and cement are weightbatched and delivered to the coilloidal mixer, a type of mixer which uses a high velocity blade to shear or separate grout particles, breaking surface tension and enabling complete contact between the particles and the water. From there it moves to an agitator until it is called for by the pump. High speed vortex mixer ensures mix quickly and evenly. Water, cement or bentonite is quickly mixed into a homogeneous slurry. Then the mixed slurry was delivered to the agitator. Grout pump injects from the mixing drum (storage tank). This ensures a continuous mixing and grouting operations. Also price of grouting mixing plant is very competitive in the market.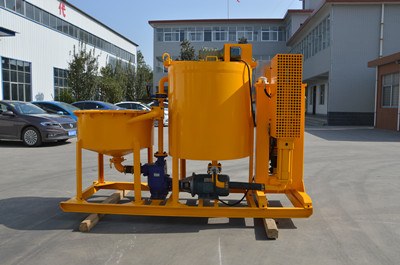 It has a dual-pump system. As well as its established pump piston pump which controls pressure and flow independently it also has the facility to operate with a pump. The grouting plant is hydraulic drive with electric motor. Grouting pressure and displacement is adjustable. Compact size and it is easy to operate. Grouting mixing plant cost also takes up a small space. The computerised recording system samples and stores flow, volume, pressure and pumping time from up to four lines at once. The information can then be transferred to a PC for reporting purposes. About grouting mixing plant price, you can contact us timely. We will help you at the first time.