Peristaltic Pumping Technology Used In The Mining Industry
2021-06-11 19:51:22
Peristaltic pumping technology used in the mining industry
Lead Equipment peristaltic pump has been used in mining industry for pumping mineral cement, mineral slurry, and residue slurry etc.
The challenges posed by successful mining operations (be it gold, cement, coal, petroleum or salt production) are frightening and numerous. In particular, the types of technical challenges are wide:
1. Material Management: It requires reliable and efficient equipment, requires little maintenance, and can be operated in a production area that requires constant blasting to release minerals.
2. Processing aids are required to perform cross looga rock and grinding, as well as by leaching and flotation mineral complex or difficult.
3. Environmental Issues / Waste Management: Mine operators must have a system that can properly treat and remove marbles, rocks and debris. It should also contain the acid fumes and release heavy metals to prevent damage looga fresh water and underground water.
4. Water Management: operatives are committed to determine the source of water supply system in production to prevent looga other industries (such as agriculture and production) to compete for valuable resources. Another way is to use the sea for seawater or underwater sources. However, salt water can mean the old price of equipment.
5. Safety: Only proven materials used in explosive environments and hazardous materials can be used safely and securely in mining operations.

Mineral slurry and residue slurry with high viscosity, big aggregate size, it is hard for common pump to pumping, and because of the bad working condition, we proved peristaltic pumping technology is one good idea which could be used in mining industry.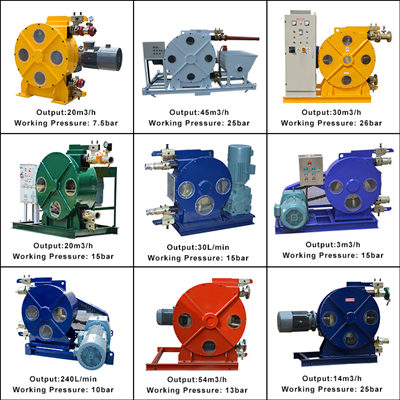 The following operating characteristics of peristaltic pumps make
peristaltic pumps
an ideal choice for mining operations that need to transport abrasive or viscous muds and handle fluids containing large particulate matter (such as rocks or pebbles).

1. Peristaltic pump with simple structure, only has pump house, rotor, roller, idel roller, squeeze tube and driving unit. So when use peristaltic pump to pumping the mining slurry, easy operate and maintenance;

2. Peristaltic pump no seals, no valves, also could self-priming, so when use peristaltic pump to pumping the mining slurry with low failure rate;
3. Peristaltic pump's only wearing parts is squeeze hose, so when use peristaltic pump to pumping the mining slurry will save cost;
4. For the squeeze hose, Lead Equipment have China hose, Britain hose, France hose for option;

5. For the transmission type, Lead Equipment also have three types for option, cycloidal pinwheel reducer gearbox, spiral bevel gear (SEW series); sprocket chain transmission for option. Could meet your difference demands.


If you will used peristaltic pumping technology in the mining industry, our peristaltic pump will be your best choice! Contact us for peristaltic pump price freely, sales@leadcrete.com.