Mini diesel concrete pump
2018-10-22 09:57:46
LEADCRETE mini concrete pump adopts hydraulic feeding paddle. Vibration net filter double cylinder reciprocating operation can fully transport all kinds of mortar and fine stone concrete in the building. This machine has the characteristics of large displacement, high pressure, labor saving, material movement and flexibility.
Application in high-rise building mortar and fine stone concrete transportation. Secondary structure pump filling. Reservoir. Hydropower station. Various pressure grouting in port terminal. Basic treatment. Weak base. Reinforced grouting. Tunnel. Metro. Backfill grouting anchor in mine construction Rod support.
Its elegant appearance and light weight is easy to transport; Working with batching mixing equipment can achieve continuous pumping construction to improve construction schedule.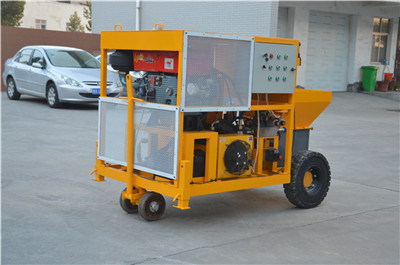 The concrete pouring of the diesel concrete pump has good continuity, high conveying efficiency and saves labor costs. The machine is small in size, convenient in construction, simple in operation, and can be directly poured on the floor, which greatly reduces labor intensity. The machine has high configuration, light weight, convenient movement, easy maintenance and low maintenance cost.
LEADCRETE high-floor cement mortar pump is a small fluid mixture conveying equipment, not only widely used for wet-mixed mortar pumping and wall plastering in high-floor buildings construction, but also for support lining construction in ground heating project, tunnels, mines and other underground engineering.
LEADCRETE pump could pump less than 20mm fine aggregate concrete with lower investment cost and operating cost, it is first choice ideal equipment for engineering construction. It adopts S tube as distributing valve to meet large aggregate concrete pumping.
HBT series diesel trailer concrete pump application have been widely used in many construction areas such as water conservancy, electricity, railway, highway, tunnel, mine, national defense, etc. They also have been exported to many countries and got an excellent reputation. If you are interested in our machines, please contact us freely. We could customize machine according to your requirements.