Industrial hose pump manufacturer
2016-03-22 15:10:56
LEC is a leading industrial hose pump manufacturer in China, as well as a unique manufacturer with ISO 9001:2008, SGS and CE certificate in China.
Many customers choose our industrial hose pump. Our industrial hose pump have been exported to the South Africa, USA, Canada, India, Malaysia, Pakistan, Korea, Bahrain and Nepal. The export amount is up to USD2000, 000.00. We've been a industrial hose pump manufacturer for more than ten years. To choose reliable supplier, contact us now! Our email: sales@leadcrete.com
LH series industrial hose pump consists mainly of pump house, rotor, roller, idle roller, squeeze tube and driving unit. The squeeze hose is U-shape in pump house, when rotor drives roller to rotate, hose is deformed. After the roller rotate, the deformed hose recover by its elasticity. Thus the negative pressure in this hose is generated, sucking slurries, and discharging through outlet under roller's push, finally forms pressure conveying of slurries.
LH series industrial hose pump are mainly applied in distant conveying, grouting and dosing of viscous slurries in construction, mining, food, papermaking, ceramic, etc.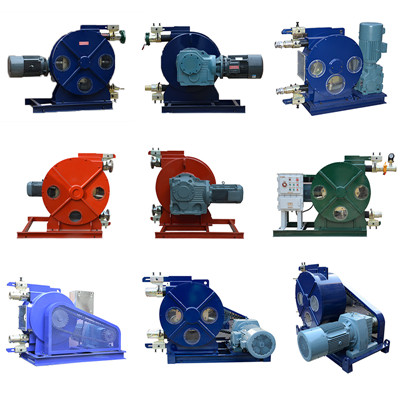 Features:
♦ No seals,No valves.
♦ Self -priming,Only tube to replace.
♦ Dry –running without damage, Reversible.
♦ No contact between product and mechanical parts.
♦ Able to pump products with solid parts inside.
♦ Easy maintenance, low-cost, short down time.
LEC industrial peristaltic pumps can be used in following field: Construction, pharmacy, textile mill, dye making, water treatment, paper making, mining, ceramic, brewery and beverage, underground engineering, etc. It's perfect to pump corrosive, abrasives, shear sensitive fluids, high viscosity fluids, high density fluids, large solids, metering(±1%), high pressure(3Mpa).