Hydroseeding machine for green design
2021-03-08 11:24:13
Hydroseeding machine for green design

The hydroseeding machine for green design is a kind of vegetation greening equipment. It has become a kind of greening projects such as high-speed highway (railway) road slope greening, mine re-greening, desert treatment, river embankment protection, large-scale green space reconstruction, etc. The hydroseeding machine is an effective vegetation establishment method.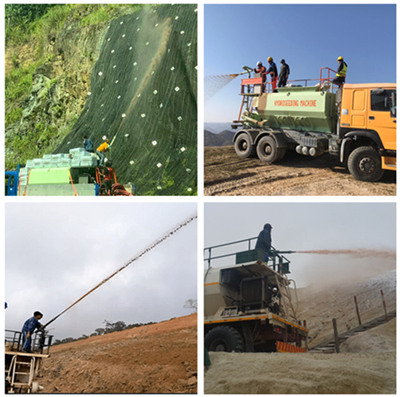 The hydroseeding machine for green design adopts a new type of pump body, the first-stage impeller feeds, the second-stage impeller discharges, the middle connecting elbows of the first and second impellers are made of high chromium alloy sand casting, and the pump body uses imported mechanical seals, which overcomes the past The technical problem of water leakage and slurry leakage of the pump body increases the suction and lift capacity of the pump body and reduces the fragile points at the same time.
Adopting the S-type universal sprinkler structure principle, compared with the original machine, the new universal sprinkler will not have a strong recoil when spraying, and the hydroseeding machine for green design operation is more convenient and easy.
The hydroseeding machine for green design tank body adopts taper bending technology to make the tank body volume more standard and beautiful. The frame body is welded with a 120mm thick-walled square tube, which makes the machine as a whole beautiful, heavy and durable.

(1) The hydro seeding machine for green design that can add soil is suitable for covering three-dimensional nets and can be formed at one time. During construction on site, appropriate amount of soil can be added according to site conditions, reducing the amount of paper fiber and wood fiber, greatly reducing construction costs, accelerating the construction speed and effectively increasing the germination rate and survival rate of grass seeds;
(2) The hydro seeding machine for green design is compact and easy to move. It is suitable for spraying grass on low slopes. It can be widely used in river banks, highways, railways, low slopes and wastelands, lawns, orchards, fields and other places where seeds need to be sprayed;

(3) Wheels can be added according to the actual construction situation, which not only reduces the use cost of the machine, but also facilitates the movement of the hydro seeding machine for green design in places that are not suitable for vehicles to enter and exit;
(4) Comes with horizontal spiral conveying mixing and reflux vertical flushing mixing system, the hydro seeding machine for green design can effectively mix the materials evenly and improve the germination rate and growth rate in the later stage.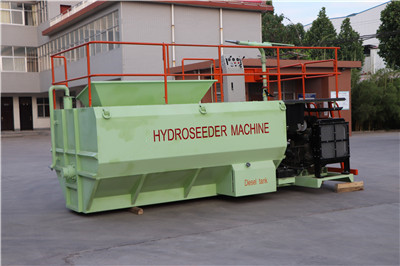 We have the hydro seeding machines for green design of mixing capacity of 3000L, 6000L,8000L, 13000L and 15000L for your choosing, and we can also provide the customized service for you. If you are interested in it, please contact us freely, sales@leadcrete.com.