High efficiency grout mixing station for consolidation grouting
2021-11-13 10:15:58
High efficiency grout mixing station for consolidation grouting
Grout mixing station is a combination of mixer and grout pump in one plant. The
high efficiency grout mixing station for consolidation grouting
is not only used for mixing construction materials and pumping bentonite slurry in tunnel excavation projects, but also used for municipal, highway, railway, hydropower, construction, consolidation, mining and other construction site for grouting.
1. Civil Engineering - dam foundations, tunnels, mining, soil nails, tiebacks, earth anchors, cable and rock bolts;
2. Structural – building and bridge restoration, foundation stabilization, foundation raising, soil compaction grouting; soil & rock grouting;
3. Construction - pavement under sealing, slab jacking and slab raising;
4. Marine - underwater foundations, piers, breakers, shoreline foundations;
5. Mining - tunnel lining, contact grouting, shaft waterproofing;
6. Utilities - encasement, waterproofing, slope line grouting;
Lead Equipment Co., Ltd. is a high efficiency grout mixing station manufacturer. We have high efficiency grout mixing stations with different tank sizes, pump capacities, pressures and powers. For example, the volume of the mixer is from 100L to 800L, the volume of the agitator is from 150L to 3000L, and the output range is from 50L/min to 300L /min.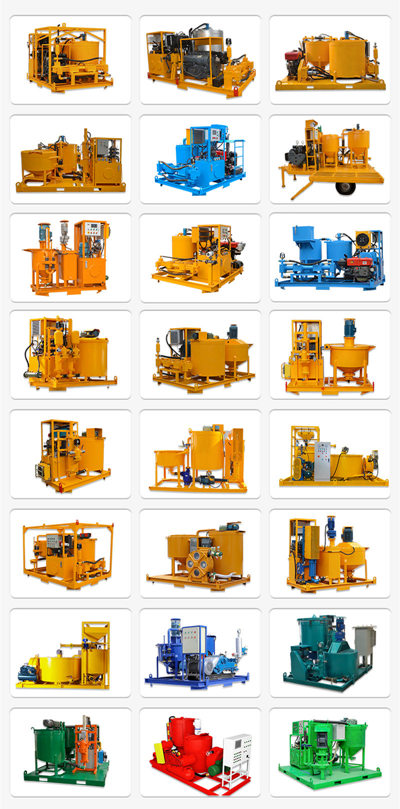 Its mixer volume is 400L and its power is 15Kw. When its working pressure is 2.4Mpa, its output is 80L/min; when its working pressure is 5Mpa, its output is 0-40L/min.
Features of LGP400/80PL-E grout mixing station for consolidation grouting
:
1. Particle size up to 5mm.
2. Grouting pressure and displacement is adjustable.
4. Output up to 80L /min.
5. Low wear plunger system.
6. The vertically plunger pump is a universal application for grouting.
7. The function switch between mixer and grout pump is realized by using squeeze switch.
8. Easy to operate and maintain.
In addition , we have other types of grout mixing station. Such as:
The grout mixer volume is 250L, grout agitator volume is 350L.
The grout pump is double cylinders piston pump. Grout pump pressure is 0-100Bar, grout pump output is 0-100L/min.
The mixer capacity is 300L, and its output is 4.5m3/h. Grout agitator capacity is 300L.
Its grout pump is designed for double-acting piston, so discharge of grouting pump is continuous, uniform and smaller pulse. When its working pressure is 0-5Mpa, its output is 0-75L/min; when its working pressure is 0-10Mpa, its output is 0-38L/min.
If you are interested in our grout mixing station, we will recommend a suitable grout mixing station for you. Please help us to confirm the following points:
1. What kind of grouting project would you use the grout equipment?
2. What is the pressure and flow rate do you need?
3. How about the water and cement ratio, does any sand in?