High volume skid mounted grout mixing plant system for sale
2021-11-17 13:18:59
High volume skid mounted grout mixing plant system for sale

Grout mixing plant system is a combination of mixer, agitator and grout pump in one plant. Grout recorder system could be added for the grout mixing plant. Grout flow, max grouting pressure, cumulative grout volumes all could be record and save for future check.
Water, cement and other media are quickly mixed into a homogeneous slurry in grout mixer, high speed vortex mixer ensures mix quickly and evenly. Then the mixed slurry was delivered to the agitator. Grout pump injects from the mixing drum (storage tank). This ensures continuous mixing and grouting operations. The grout pump is driven by hydraulic. Grout pressure and displacement is step-less adjustable.
We are a professional high volume skid mounted grout mixing plant system supplier. We produce products including piston mechanical grout pump plant, plunger hydraulic grout pump plant, grout mixing plant etc. As for the piston pump, single piston single acting, double piston double acting and three piston single acting pump could be provided. Our LGP series grout mixing plant system have all kinds of tank sizes, capacity and output. Mixer volume is 100-800L, agitator volume is 150L-3000L, and output is 50L/min-300L/min. We can provide customized services for customers according to their requirements.

LGP400/700/320/100TPI-E high volume grout mixing plant system is one vortex mixer which make sure cement slurry mixed evenly and quickly. It is equipped with skid mounted and high speed grout mixer. The grout mixer volume is 400L, grout agitator volume is 700L, grout pressure of slurry pump is 22-100Bar, grout flow of slurry grout pump is 118-320L/min.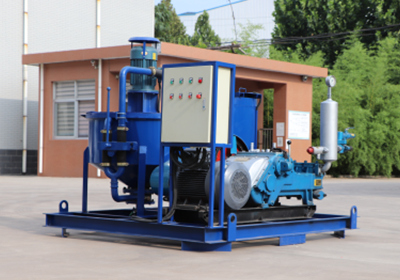 LGP400/700/320/100TPI-E high volume grout mixing plant system is not only used for mixing construction materials and pumping bentonite slurry in tunnel excavation projects, but also used for municipal, highway, railway, hydro power, construction, consolidation, mining and other construction site for grouting.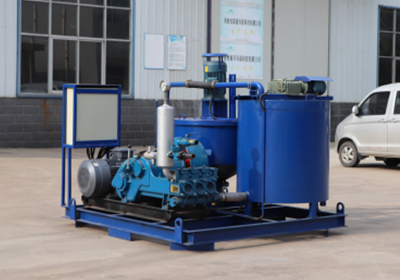 Features of LGP400/700/320/100TPI-E high volume grout mixing plant system:
1. Three cylinders piston pump with single acting to ensure the continuous slurry flowing (small pulse) and not easily leaking compared with the double acting piston pump.
2. Grouting pressure and displacement is adjustable.
3. The function switch between mixer and pulping machine is realized by using squeeze switch.
4. Triplex single acting reciprocating piston pump acted as universal grouting applications.
5. The grout mixing plant system is easy to operate and maintain.
Our grout mixing plant system is very popular in the world, especially in these countries, such as: South Africa, UAE, Philippines, Tanzania, Iraq, Australia, Qatar, Italy, Singapore, Canada, India, Egypt, Turkey, Germany, Nigeria, Jordan, Thailand, Malaysia, Indonesia, Sri Lanka, Nepal, Pakistan etc.

If you are interested in our grout mixing plant, we will recommend a suitable grout mixing plant for you. Please help us to confirm the following points:
1. What kind of grouting project would you use the grout equipment?
2. What is the pressure and flow rate do you need?
3. How about the water and cement ratio, does any sand in?