New high speed grout mixer for sale in Thailand
2019-10-23 14:26:59
New high-speed grout mixer is special equipment for slurry preparation, which is superior to the rapid grout mixer. Grout mixer for sale in Thailand is mainly used in hydropower, railway, transportation, construction, mining and other industries, mixing cement and bentonite with water and its additives and quickly making slurry. Thailand grout mixer for sale adopts high-speed eddy current double-force circulation, multiple shearing and pulverizing solid groups. The fluid has high dispersion and mixing, and has the pumping ability. Compared with the general grout mixer and the blade mixer, it has the characteristics of faster pulping speed and more uniform slurry mixing, and is one of the key equipment of large pulping stations.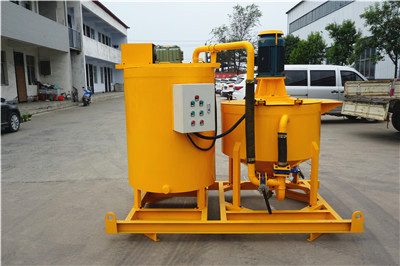 High speed grout mixer for sale produced by Leadcrete is a high-speed, high-shear colloidal slurry mixer. It is designed for use with conventional paddle mixers and pumps, or with its own impeller pump as a separate mixing and placement machine. The unit will quickly and efficiently mix various types of grouting, including cement, bentonite and sand. New high speed grout mixer is specifically designed for cement mixing and grouting in ground/underground works. We can also design mixers and mixers to keep the mixing work going.
In August, Thailand grout mixer customers ordered 4 sets of high-speed grout mixers.
Water, cement, additives and mixed slurries that require rapid mixing can be stored in tanks to ensure continuous mixing and specifications are as follows:
The volume of the agitator and agitator should be within one station.
Our LMA400-700 high speed grouting mixer has the perfect structure and function to meet the requirements of our customers.
The high speed grout mixer for sale is simple in structure, easy to use and maintain, and is ideal for cement mixing. So what should we pay attention to in the later maintenance and maintenance of high-speed grout mixer?
First, we cannot stop the injection of cooling water while the equipment is running. The high-speed rotation of the high-speed grout mixer causes mechanical wear during operation, and the high temperature is instantaneous. If the injection of cooling water is stopped rashly, it is easy to cause internal parts of the vulnerable transmission assembly, resulting in seal failure. In severe cases, the drive shaft is stuck and the motor is burnt.
Second, we must do a good job of cleaning the equipment. After the high speed grout mixer is used, the most important follow-up work is to thoroughly clean the residual cement slurry. If the cement is not completely cleaned up, we are very clear and will quickly cake. If a lot of blocks are condensed in the equipment of the high-speed grout mixer, it will cause equipment failure in the next use. Therefore, after use, the high-speed grout mixer equipment should add butter to the butter hole to improve the inner seal life of the rotating assembly.
Our thailand grout mixer for sale is selling well in the global market. Leadcrete has been producing grout pumps, grout mixers, grouting pump stations and many other mining and civil related products for the global market for more than 9 years. We are a specialist company specializing in grouting equipment. We design and sell grout mixers around the world. We value innovation to ensure we stay at the forefront of the market and continue to provide the best products to our valued customers. A full range of grout mixers, mixers, grouting pumps and cement grouting equipment are available. Power and diesel engines are available for customers to choose from.
For more details on the sale of grout mixer for sale in Thailand, please send us an email: sales@leadcrete.com