Foam concrete for house construction
2020-02-07 15:22:21
In recent years, with the maturity of the foam concrete for house construction market and the expansion of the application range, the demand for foam concrete machine has also increased. The original foam concrete machine with low technical content, low degree of automation, low production efficiency and poor controllability has gradually failed to meet market demand. At present, there are hundreds of manufacturers of foam concrete machine in China, and the development speed is amazing. The output of foam concrete machine has also leapt to the forefront of the world.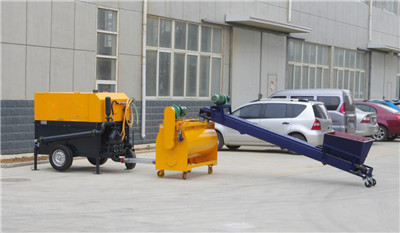 Foamed concrete is a lightweight insulation material that is used in many applications now. The following is a brief introduction to the small lightweight foam concrete machine. I hope it will help you to properly carry out foam concrete for construction.
Foam concrete machine
is composed of 4 parts: a screw conveyor, a mixer, a foam generator and a foam concrete pump. Our foam concrete machine are specially used to make foam concrete house construction, because this foam concrete machine has a frequency converter, it can exactly adjust the quantity of foam, so that we can adjust the density of the foam concrete easily. And this foam concrete machine can also be used for pouring the roof, floor, etc.

We can feed the cement and sand by screw conveyor, the conveyor will feed the materials to the mixer, then the materials will be mixed to slurry in the mixer. Then, we can produce foams by foam generator. Nest, the slurry and foams will be mixed in the static mixer and then pump to the work site by the foam concrete pump. So, if you want to make foam concrete house, you can choose our 4-in-1 machine.