Factory direct sale diesel engine grout mixer with storage tank
2021-10-26 17:15:06
Factory direct sale diesel engine grout mixer with storage tank

Lead Equipment Co., Ltd. is a direct sales
factory
of various grout mixer and agitator. Now, mixer volume produced including
250L, 300L, 400L, 500L, 750L, 850L
, and
1500L
, etc. agitator volume and engine could be customized according to customers requirements.
LMA300-650D grout mixer
with storage tank is a combination of mixer and agitator. It can produce various types of grout, such as water, cement, bentonite and additive. And it can be mixed in a 300 liters mixer machine, then the mixed slurry can be stored in a 650 liters agitator. Thus the mixing work can continuously be done. This machine have electric engine and diesel engine for your option.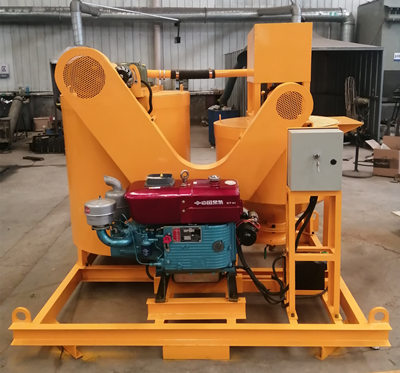 The LMA300-650D also named
grout mixer with storage tank
. Because this agitator is used to store the mixed slurry. In the slowly revolving storage tank, the grout suspensions are homogenized and possible air bubbles removed. Agitator volume is usually design based on the mixer volume. Usually ,the agitator volume same as mixer volume, or larger than the mixer. This can ensure better use of the machine.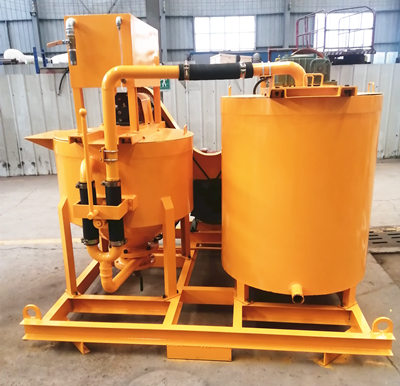 The mixer capacity of LMA300-650D
grout mixer with storage tank
is 300L, its agitator capacity is 650L, its water-cement ratio is greater than 0.5.
When this machine equipped with diesel engine, its working power is 18Hp;
When this machine equipped with electric engine, its power unit respectively are 7.5Kw, 3phase, 380V, 50Hz.
1. Civil engineering - dam, tunnel, subway, mine, soil nailing wall, curtain, anchor, cable trench and anchor grouting.
2. Building structure - building and bridge repair, foundation reinforcement, slope support, soil compaction.
3. Engineering - underwater foundation, offshore platform, coast foundation grouting reinforcement.
4. Mine application - roadway reinforcement, backfill, waterproof grouting.
Working process of
factory direct sale diesel engine grout mixer with storage tank
:
The slurry is mixed through a high speed vortex produced by a special pump, after sucking the material from the bottom of the mixer tank, sends it back tangentially into the same tank in order to get highest possible efficiency. By this process it is possible to obtain homogeneous colloidal and high quality mixtures within a very short period of time.
After mixing, this mixtures are pumped into the agitator tank with slow speed mixing paddles by the above same pump. When all the mixture in the mixing tank is pumped out, press the discharge.
1. This grout mixer machine has a simple structure and is easy to assemble..
2. Extremely fast mixing, mixing time just about 1-2 minutes.
3. Less spare parts, low maintenance. Lower maintenance cost.
We have many standard models for your option, and we also could customize as per your requirement. Please tell us your requirements and we will provide you with the corresponding product parameters and quotations.
1. Mixer only or mixer with agitator do you need?
2. What's the volume of grout mixer and agitator you want?
3. What is the composition of grouting liquid? Just water and cement? Any sand in?
4. How about the water cement ratio? More than 0.45: 1?