China grout pump for sale
2018-05-04 15:33:19
China grout pump is a kind of machine that can hydraulically press the slurry into the tension channel, including plunger and screw. The slurry is hydraulically forced into the prestressed stretch channel for bonding and corrosion purposes. Through the one-way control of pulse pressure grouting, the motor drives the reducer to drive the piston or piston to reciprocate.
It is used for grouting reinforcement and spraying support of bridges, culverts, mines, tunnels and deep foundation pits.
The grout pump has the advantages of simple structure, reliable performance, high delivery pressure, adjustable, etc., this grout pump is widely applied in tunnel excavation and maintenance, mining engineering, dam construction, fundamental construction of bridges and high buildings, etc.
Grouting pump is widely used in various grouting construction occasions. Compared with other supporting products of the same kind, the grouting pump has the characteristics of energy saving and high efficiency. The use of grouting pump grouting has become the dominant ideology of grouting construction. The technical personnel of the Machinery Equipment Co., Ltd. gave everyone a general introduction to the working principle, application range and characteristics of the injection pump.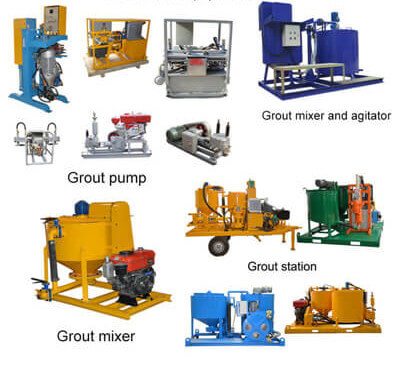 Working principle of China grout pump:
The grout pump rotates the working cam with a specific trajectory driven by the motor through the speed reducer to push the piston grouting pump forward. When the piston returns, the working cylinder and the valve chamber form a vacuum, and the mortar is sucked from the hopper through the suction pipe into the lower valve chamber and the working cylinder. When the piston advances, the pressure in the working cylinder and valve chamber rises, and the piston cylinder pumps out the mortar in the working cylinder and the valve chamber from the upper valve chamber, so that the circulation is repeated and the mortar is continuously pumped out.
Application of grout pump:
1. Sealing of cracks, expansion joints, construction joints and structural joints of various buildings and underground concrete works.
2. Drilling wall plugging and reinforcement of geological drilling engineering. The
3. Dams of reservoirs of water conservancy and hydropower projects are grouted, cracks in water conveyance tunnels are blocked, seepage prevention, and impervious reinforcement of dam concrete cracks. The
4. Subways, tunnels, culverts, sewage treatment tanks, seepage cracks, water leakage, with water plugging.
5. Basement, underground garage, underground passages, cracks leaking water, with water plugging.
6. Cracks in roof linings, through-wall pipes, corners, leaking water, and water plugging.
7. Cracks in structures, beams, columns, and plate structures, and high pressure injection of epoxy resin.
Grout mixer, grout mixer with agitator and grout pump are also produced by Leadcrete. Email us: sales@leadcrete.com for more information about China grout pump.