Air motor driven shotcrete machine
2016-08-30 09:07:09
In order to solve the electricity inconvenient, especially in some remote areas without local power tunnel shotcrete jobs, innovation developed air motor driven shotcrete machine.
Pneumatic shotcrete machine does not use power directly but use coal mine compressed air, so it can solve all the problems.
Compared with other series shotcrete machine, pneumatic shotcrete machine reduces the tedious preparation links and content maintenance and repair equipment failures, saving hours of work, extend the actual spraying work time and improve work efficiency.
Air motor driven shotcrete machine structure and working principle: by a pneumatic shotcrete machine mounted on the plate and gear motor drive shaft, drive sprocket and chain, rotor, stirred tank and other components. Turn motor control valve, driven by a gear motor and sprocket shaft rotation, and then through a chain drive to rotate the rotor stirring tank into a mixing good spray material by stirring the spray material tank agitator Stir and spraying material at a constant rate paid into the cup rotor, while slowly blowing open the feed control valve, the spray material is ejected.


dry mix air motor shotcrete machine

Items

Output Capacity

1.5-3m3 /h

2.5-5.5m3 /h

5-9m3 /h

Max. Horizontal Conveying Distance

200m

200m

200m

Suitable Mix Ratio(Cement/Sand)

≤1:3~5

≤1:3~5

≤1:4~5

Max. Aggregate Size

Φ10 mm

Φ15 mm

Dia.20 mm

Conveying Hose Inner Diameter

Φ50mm

Φ51 mm

Dia.64 mm

Conveying Pressure

0.2-0.4MPa(29-58PSI)

0.2-0.4MPa

0.2-0.4MPa(29-58PSI)

Air Consumption for conveying material

5~6m3/min(180-215CFM)

7~8m3/min

10~12m3/min(357-430CFM)

Air Motor Air Pressure

0.5MPa(71PSI)

0.5MPa

0.5Mpa

Material Charging Height

0.9m

1.1m

1.1m

Rotor Speed

14r/min

11r/min

6-11r/min

Air Motor Type

TMH3.2

TMH6A

TMH8A

Air Motor Air Consumption

4.8m3/min(171CFM)

7.5m3/min

10 m3 /min(357CFM)

Overall Dimension(length×width×height)

1.13×0.54×1.02m

1.35×0.75×1.2m

1.65×0.9×1.25m

Net Weight

430kg

720kg

900kg
wet mix air motor shotcrete machine

Items

Rated output

5m3/h

Max. horizontal conveying distance

35m(wet)/200m(dry)

Max. aggregate size

Dia.15mm

Concrete slump

8~15cm

Conveying hose

Dia.50/65mm

Operating air pressure

0.2~0.6MPa

Air consumption

22m3/min (12+10)

Loading height

1.17m

Rotor Rev.

11r/min

Rebound

≤10 %

Air motor power

8kW

Dosing pump model

BHA530 Dosing pump

Dosing pump rated pressure

0.5MPa

Dosing pump output

0~100L/h

Overall dimension(L×W×H)

1950×1050×1360mm

Weight

1200Kg
LZ-3 dry mix air motor shotcrete machine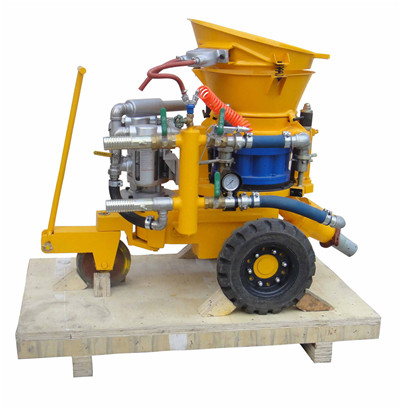 LZ-5 dry mix air motor shotcrete machine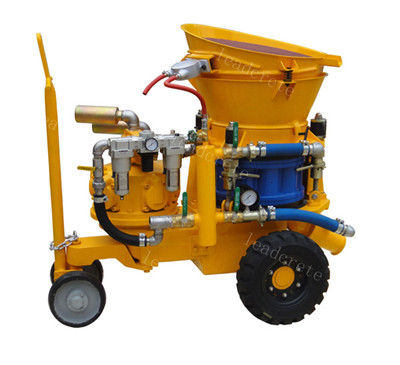 LZ-9 dry mix air motor shotcrete machine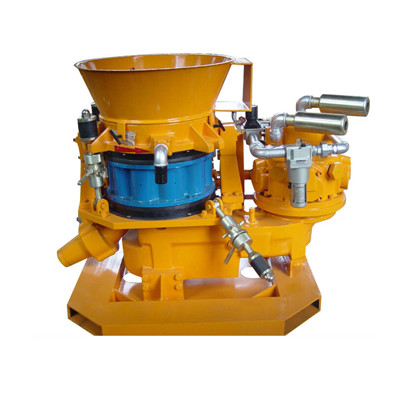 LSZ3000 wet mix air motor shotcrete machine