LD-N5 mortar spraying machine application introduction
LD-N5 mortar spraying machine is a exterior wall mortar spraying machine that brings in Germany technology, and improved many times, with perfect advanced design and excellent industrial technology. Mortar pump a reliable performance, strong adaptability, durable mortar units and can be operated easily. With the high compatibility and durable accessories, bring you a consistent performance and greatly improve the productivity. Easy to transport and maintain.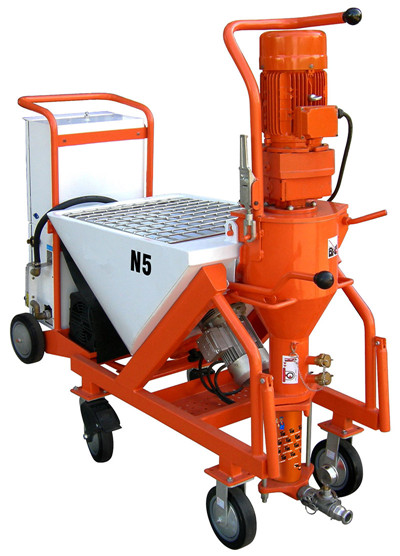 About the application of spraying machine, Applied range: all dry-mixed mortar that can be conveyed by pump, such as adhesive, primary coat, self-levelling mortar, mending mortar, putty, really stone paint, rendering plaster, stucco gypsum. It contains mixed mortar which is less than 3MM, liquid materials, such as paint, primary coat, interface treating agent and so on. It is a multifunction hand sprayer, specially used for spraying kinds of putty. It can spray high concentration of anti-decaying paint, emulsion varnish, mucilage, silty sand, plaster and so on.
About model LD-N5 putty spraying machine operation, usually needs four people to finish. One person adds material, one person spraying, 2 person plastering. The output of machine is 6-85L/min. If one day work 8 hours. If the spraying thickness is 10mm. It can spray about 600m2 per day. Also it can improve the efficiency of your construction, shorten the construction time. On the other hand, it can save your labor costs, reduce the project budget.
About clean the machine, Need to clean machine after the completion of the work, ensure exhaust all remaining material. Then add enough water to clean the hopper. Start pumping and the water will clean the pump body and nozzle. Until all the clean water is pumped out. Its purpose is to prevent the material clogging. The instructions will be sent to you along with the machine.
About production time of machine, As for model LD-N5, production time usually is about 10 working days after received payment. Once confirm, we arrange the production in advance.
About the after sales service, On the one hand we can answer the plastering machine questions online. On the other hand we can send you the video of the product operation if you need. The foreign customers who have any question on after-sales service can direstly email to our designated mailbox. we will answer your question in 12 hours and solve various problem for customers in time. We are a professional manufacturer, we pay more attention to our after-sales service.