How foam concrete is made

One of the methods of reducing the density of concrete relies on the introduction of stable voids within the hardened cement paste or mortar. The voids can be produced by gas or by air. Because a foaming agent introduces the air, the concrete produced is called foam concrete.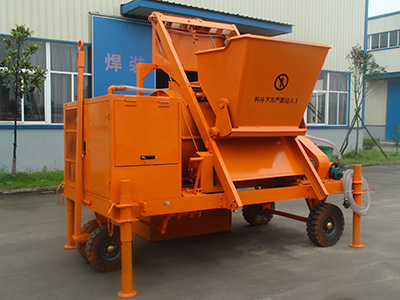 Foam concrete is a vast majority of concrete containing no large aggregates, only fine sand and with extremely lightweight materials containing cement, water and foam. It can be considered relatively homogeneous when compared to normal concrete, as it does not contain coarse aggregate phase. However, the properties of foamed concrete depend on the microstructure and composition, which are influenced by the type of binder used, methods of pre-foamation and curing The main advantage of foam concrete is its lightweight, which ensures economy of walls of the lower floors and foundations. It has several advantages and since it is porous in nature, it provides thermal insulation and considerable savings in the material. The important applications of foamed concrete include structural elements, non-structural partitions and thermal insulating materials. Manufacturers developed foam concretes of different densities to suit the above requirements and these products were used in trench reinstatement, bridge abutment, void filling, roof insulation, road sub base, wall construction, tunneling etc.
The raw materials used for the production of foam concrete are, binding agent, aggregates, foam agent, and water. Foam agent maybe the most important material, because it decides the finial performance of foam concrete.
Foaming agents can be divided into two main groups: Natural foaming agents and Synthetic foaming agents.
Natural waste based foaming agents ordinarily used in the industry are tannic extracts of leather industry, sub soaped lye, sulfite lye – they are the products with sufficiently varying properties. They have a limited storage life. Due to inconsistency of raw material composition and complicacy in their production, the chemical composition and main component content in the foaming agent obtained is varied.
Synthetic foaming agents are produced in accordance with technical requirements so that they have permanent properties and working life much longer; this gives them application advantages.
Foaming agent selection must be carried out for the particular production in dependence on production capacity, foam concrete mix production method and regional conditions.
The foam is mainly added as a base material and the main requirement is that it must be capable of remaining stable and not collapsing during pumping, placement and curing. The density of the foam is about 110 kg/m 3 and investigators reported that foam materials below this density are to be manufactured with care.
We can supply automatic
foam concrete machine which can make your construction easy and labor saving. Besides, we can also supply foam agent to help you make superior and high quality various kinds of project.